手拭 (てぬぐい): Tenugui is the name for these Japanese-style long, thin towels. At first glance, they do not seem like much. But even though these towels seem a bit simple, they can be used for just about anything: to wrap bento or other other lunch boxes to wrap gifts, dish towel, cleaning towel, wrapped around the head or neck (to wipe sweat, particularly popular use among ojiisan), onsen towel, or even just as a hanging decoration. There is no specific one use, you just use it however you like. They dry really fast, too, so they are pretty useful to have around.
In our house, they have become mostly kitchen towels, and we have collected a variety, including ones from the Awamori distillery (free), some bought from the Daiso (100円 store), a Kumamon pattern (Kyushu souvenir), onsen logos (free or cheap), our local village eisa troupe towel, a retro onsen design from Beppu, and even a cute one with monkeys bathing in onsen. I even got one free from the conbini from buying bottled drinks!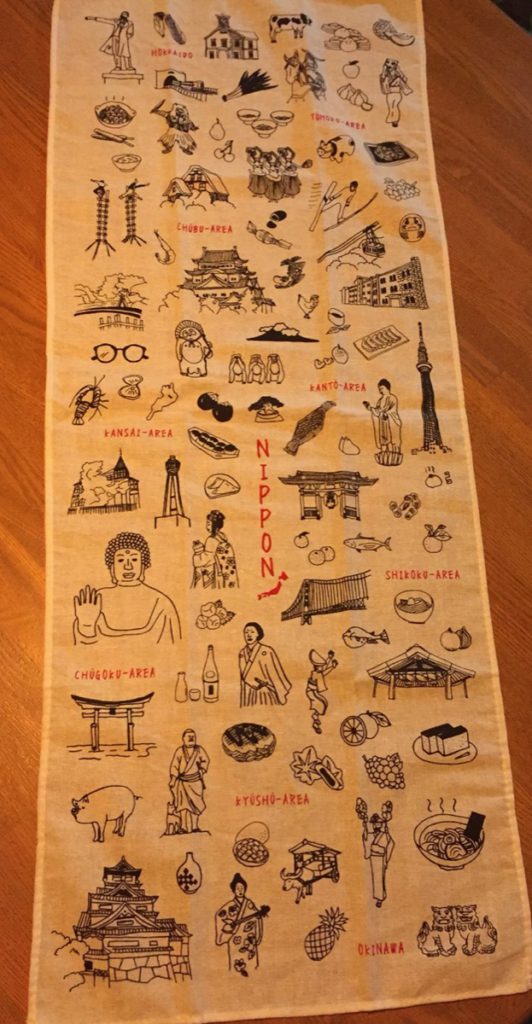 Souvenir shops, 100円 stores, kitchen goods stores will all sell tenugui. The patterns can range from simple to elaborate, and often the price can reflect that. Different regions will print different patterns for souvenirs; in Okinawa, there are some really pretty ones with Ryukuan bingata 紅型 patterns and shisa. I bought this one from the Daiso (100yen) shop, I thought it was cute, if a bit kitschy. I might go back and get another to send to friends in the US since it makes a cute and cheap souvenir.