Update: Orange Shokudo has closed in Naha and moved to Kin. Just opened as of Feb 2020 there are two! vegan ramen places in the basement of the old mitsukoshi building on Kokasai in Okinawa's own Ramen Street
Today started as any normal Sunday. It is the monthly Sunrise Market in Naha, and my husband wanted to go. So we set off and parked our car in the Noren Plaza のうれんプラザ as is our usual spot. The monthly market is quite nice and we always find some ono grinds here. Anyway, after we wandered (and ate) through the market, we walked around Naha for a bit before heading back to the car. When we returned to the Noren Plaza, a restaurant called オレンジ食堂 (Orange Shokudo) on the second floor had a sign with something strange that caught my eye.
"Vegan black sesame ramen"
ビーガンラーメン
辛い黒ゴマ濃厚担々麺
I was surprised, so I stopped and inspected further; while this place had meat options, it also had VEGAN options (black sesame, gold sesame, and a regular sesame broth, as well as spicy, little spicy, and no spice). When I first saw the sign I thought maybe it was a mistake, but for sure, I asked the owner and he seemed pleased to say that Yes, he has vegan options. This was crazy, and despite already eating lunch, well, I just had to try this! So I convinced my husband to split a bowl.
When it came out, he gave as an extra bowl, spoon, and chopsticks. He also brought out vinegar and extra spice, as well as an extra bowl of rich black sesame sauce so we could add more.
Delicious. I rarely get to eat ramen as there is pretty much never a vegetarian or vegan option. And while the Okinawa vegan scene is on the rise, the only places I knew of previously were Stripes (not very good) and Rakurobi Kitchen (doesn't always have it available). So today I got delicious ramen and another place to bookmark for a visit when I feel like a bowl of ramen!
I had never heard anyone mention this place before, and even on GoogleMaps there was not mention of the vegan options. Perhaps it is a new menu he is trying out, and I hope it stays. I hope the vegans living in and visiting Okinawa can all give Orange Shokudo their business!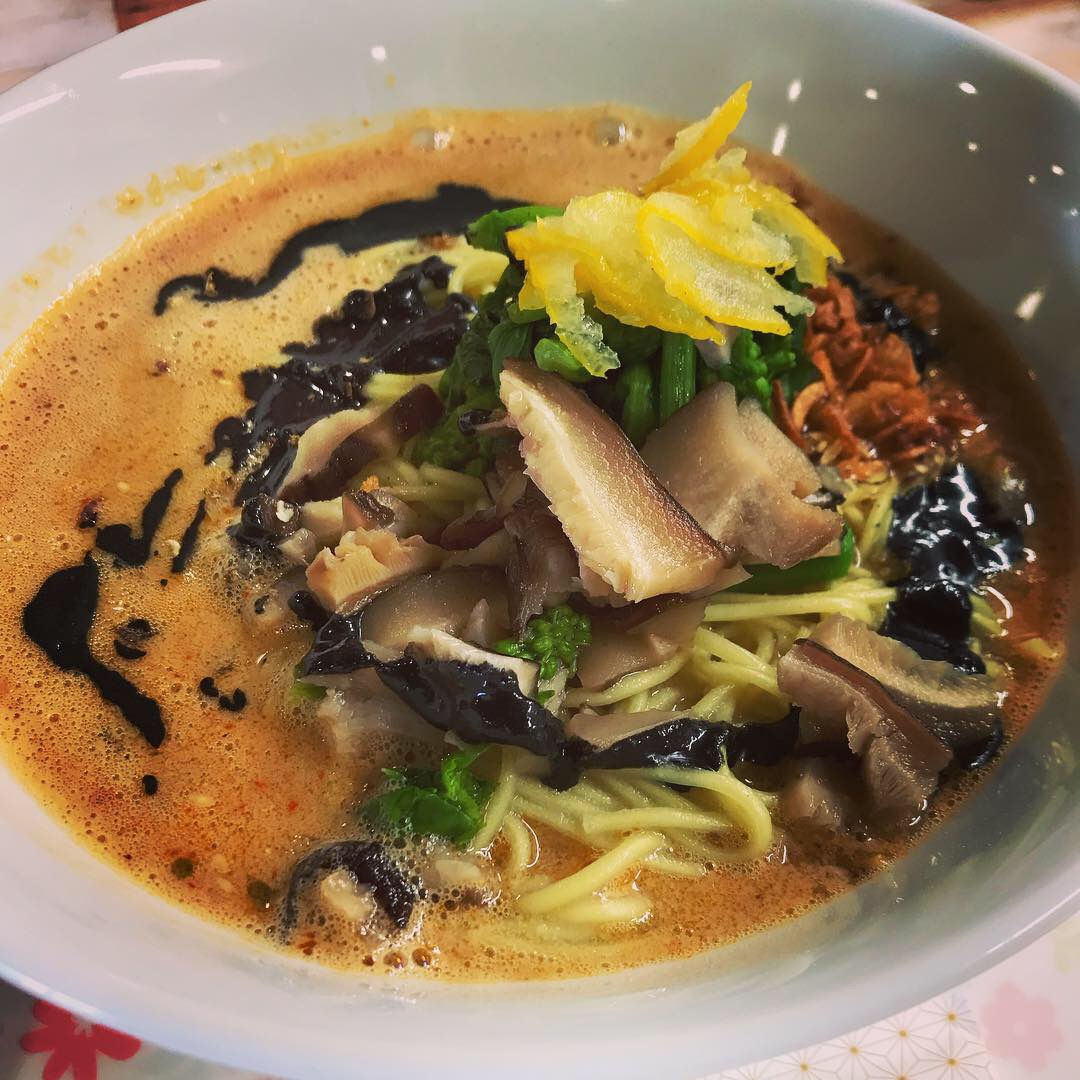 ---
address: https://goo.gl/maps/6SXLreaW2GE2
**Second floor of Noren Plaza Shopping Center
In Kin Town