So you may have noticed that we've reviewed three bars in a row, did we suddenly turn into alcoholics? No! We were doing "research" for our bar route map! After doing the hard work of testing beers in downtown Naha and Shuri area, we are ready to recommend a Craft Beer Route for Naha! As with any drinking recommendation, know your limits and don't be bad guest in Okinawa, and feel free to only do a portion of the route! But do enjoy all the delicious beers that are on tap in the city! At the end of the route there are two great food options that we recommend, the newly opened "Ramen Street" in the basement of the old mitsukoshi department store, or the "food stall street" which has outdoor stalls designed to remind you of old timey food stalls!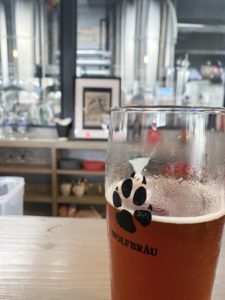 Our first stop is a bit outside of town, but a quick 10 minute walk from the Shuri Monorail station. They also open at 2pm, so you can start a little early! It's the German style brew-pub, Wolfbrau. This brew pub has delicious German beer, in our mind it's the highest quality beer of the bunch. If you are from Europe, or German style beer doesn't excite you then maybe skip this one; however, the beer is great and the bar food is tasty. If you look on Google Maps it will show the Gibo station is closer, but it has a steep uphill climb making the Shuri station your easier bet. Once you are done with Wolfbrau you can feel free to head down the hill towards Gibo station and head to the second stop –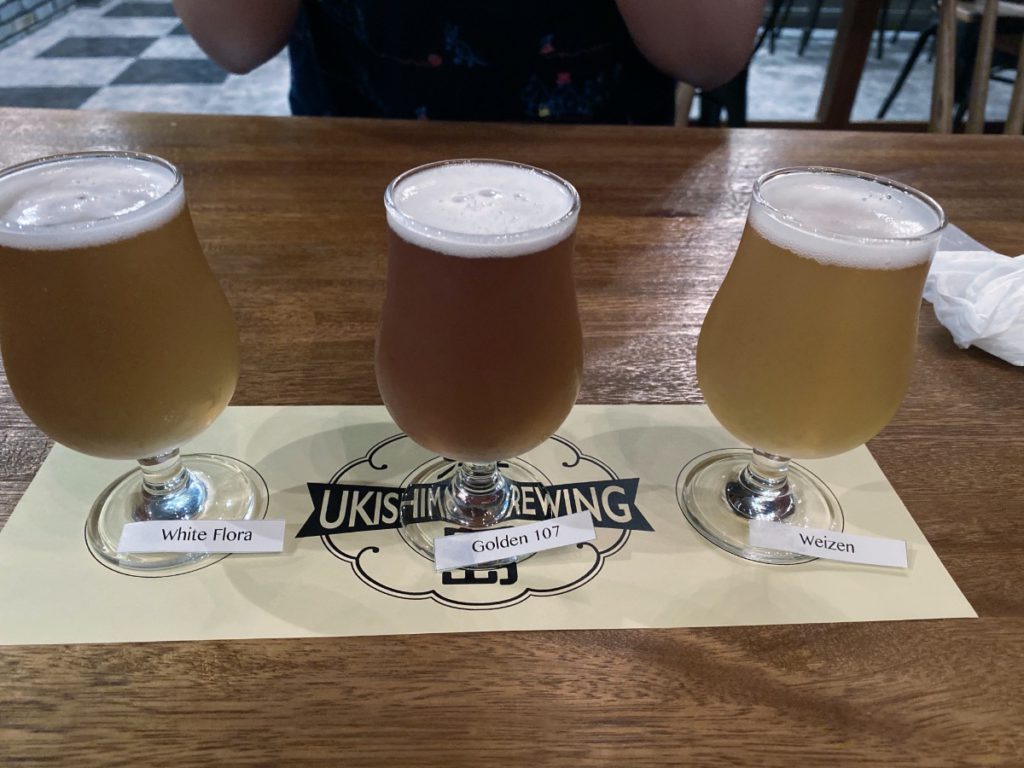 Ukishima brewing is a great brewery with a wide range of beers, you can see our Ukishima Brewing article for photos of the menu at the time we went first. Every time we've been they've had a wide variety of good beers on tap. They are almost all in the 5% range and middle of the road in terms of flavor, color, and taste. Like many things in Japan, Ukishima brewing has more subtle flavors, I wouldn't expect anything to smack you in the face, but everything we've tried has matched up with their description and been tasty. For food we've only had the fried potatoes here as this has been our second or third stop (Taste of Okinawa is like 2 blocks away).
Third Stop – Taste of Okinawa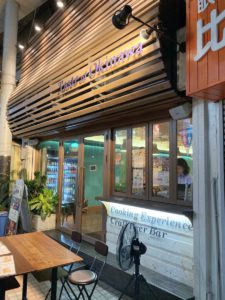 Taste of Okinawa is a nice place that has done a lot for the back end of the shopping streets in Naha. Five years ago these streets were nearly abandoned. Taste of Okinawa, along with other proprietors , has brought this area up, and made it enjoy a real renaissance! They are a key player in the Sunrise Market, which sees the area full of people and vendors one Sunday a month. They also offer cooking classes in Okinawa Soba. None of that matters to you, our pub crawling friend! They don't brew their own beer, but they do have many local and Japanese mainland beers on tap.
Helios pub is perhaps the oldest pub on Kokasai that serves their own beer. A few years back they moved from the 1st floor to the 3rd floor, but the beer is still good and cold. At this point you are probably ready for some serious snacking, we enjoyed the sausages and 1/4 baguette of garlic bread in addition to some beer. They have about 8 beers on tap; as you can see in our detailed review on Helios , they brew their beer near Nago and are a small regional brewery, a bit bigger than a microbrew. The flavors are good, and they have some Okinawa special taste beers like Goya.
After 3-4 stops of beer you're probably hungry, so our last stop is food! (and more beer if you're still inclined!) It's a choose your own path, as there are two very close and very good options to end your night.
Final stop – Ramen street or Food Stall Street
You've had a long evening drinking, it's time for some salty Ramen to re-hydrate and fill you up. Our number one choice is the Ramen Floor on the basement level of the old Mitsukoshi department store (There are no markings left indicating this is what it was, but locals will know it!) On this floor there are six(!) different ramen shops as of Feb 2020, including two with vegan ramen options. Everyone in your group can try their favorite! Our favorite is the Michelin guide recommended Soranoiro (ソラノイロ). This ramen shop has a famous location in Tokyo Station, but now has opened in Okinawa! They have a great vegan tan-tan men, and Ramen. There is also Hokkaido style ramen, and many others on this floor. You order at the individual restaurants, but they don't mind if you sit at their tables and bring over ramen from a neighboring shop, it's sort of a food-court style. If you haven't had enough to drink there is also a nice bar in the ramen area that serves many local brews, including Wolfbrau and Ukishima (on tap when we visited in Feb 2020), as well as some other Japan microbrews, so if you need a bit more you're in luck!
The food stall street area has a bunch of small stalls serving traditional Japanese street stall food. You can find tempuras, seafood, sushi, and others here. Most of the stalls are open air, although some have covered or indoor areas. Everyone in your group pretty much has to pick one stall, as they aren't set up for someone to order at one and sit at another. Most of the vendors have drinks, although it's mostly limited to Orion, Asahi, and highballs.
Maps Links
WolfBrau Google maps link: https://goo.gl/maps/U39s39oXZh2oKSgEA
Ukishima: https://goo.gl/maps/kajsA5EWCwkbEKYN7
Taste of Okinawa: https://g.page/okinawacraftbeer?share
Helios: https://goo.gl/maps/eNwLtGVv3cu6ks2h9
Ramen Street: https://g.page/kokusaidori-norengai?share