Helios brewing is probably one of the first "small" breweries to open up in Okinawa. It's not a micro-brew that brews in house, but it is a small regional brewery based near Nago. You can take a tour of their brewery there with some samples (map link at the bottom), but their pub is located in the heart of Kokasai street in downtown Naha. It's a good place to stop for a beer and a snack!
Beer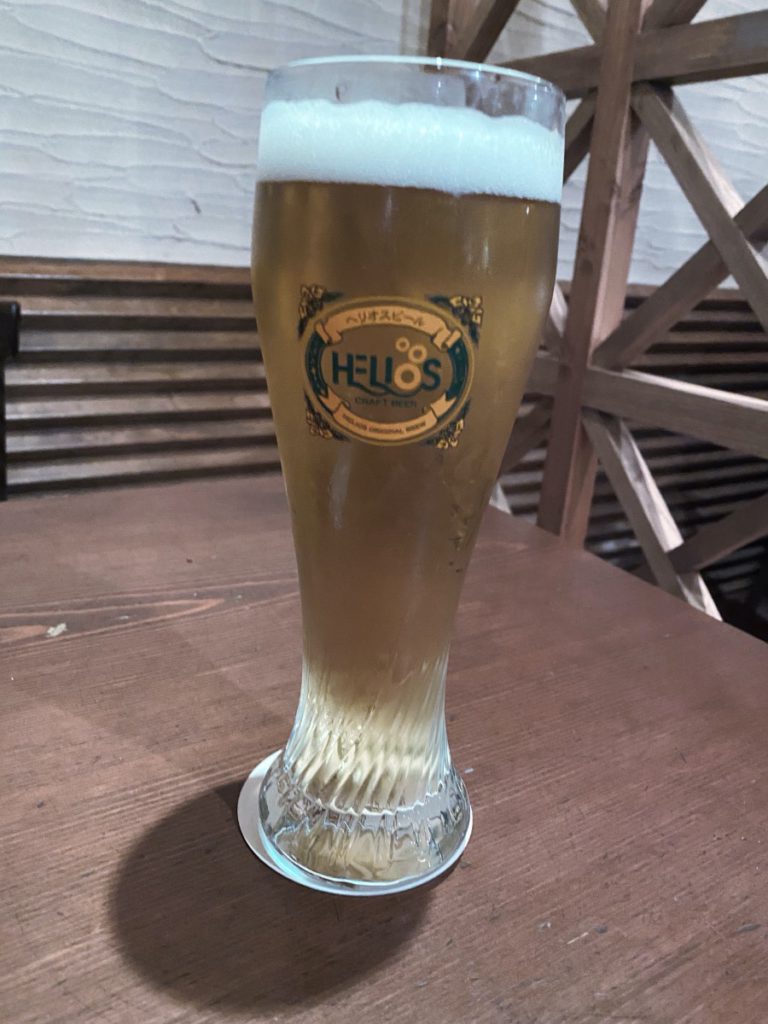 The pub is located on the 3rd floor of the building, there is an elevator or stairs to get up there. It has a modern Ryukyu village decor. In general they have all their beers on tap. I like the stouts and darker beers, while Carolyn likes the ales. They also have some kitschy beers like goya beer, which is actually pretty good, like an ale with a little bitter melon aftertaste.
On the whole nothing here will blow you away, it's pretty standard beer, but they have a decent variety (8 beers on tap when we went) and none of them are losers. I think it is a good place that everyone can find something they like, so the picky drinker isn't sitting in the corner pouting!
Food
They have a decent menu, we got the "assorted sausages" and the 45cm long garlic baguette quarter (you order by the quarter). The sausages were all tasty and the baguette was as expected, essentially a long piece of garlic bread. The other folks there with some of the more substantial food looked pleased.
It's not a real big place, when we went on Friday night there were plenty of seats, although it was the off season and there was a hint of COVID-19 fear starting to hit Okinawa. They have a bar, tables for 2-6 people and a large table for a group of 10-12. It's super easy to get to in the middle of the Kokasai street tourist area and the service was friendly and fast.
Map Links:
Helios Pub: https://goo.gl/maps/eNwLtGVv3cu6ks2h9
Helios Brewery (Nago Area): https://goo.gl/maps/DGJoPdv3kRQjPUkc6