Wolfbrau – brewery and coffeehouse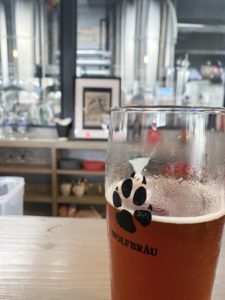 The microbrew scene on Okinawa has expanded drastically in the past 4 years. Ukishima Brewing, Coral, Taste of Okinawa (Not a microbrew itself, but they support lots of local microbreweries) the list goes on. The most recent as of the summer of 2019 is Wolfbrau, as you can probably guess from the name it's German style beer, run by a German gentleman who retired to Okinawa. Their shop does double duty as a coffee and beer brewery!
The beers are all made in house, and are what you might expect to find in Munich. Schwartz, Dunkle, Alt Ale, Weizen, and more. Everything tastes clean and refreshing. Almost all are reasonable ABVs of around 5%. We've tried four of their varieties and yet to get a bad one! The owner is very friendly and if he has time will chat with you about his beer and upcoming creations.
I'll admit we've never actually ordered a coffee, but we have had the Coffee Craft beer which is beer that has been soaking in coffee grounds overnight. It had an amazing coffee flavor which made us want to order a latte! The coffee roaster is in the shop and along with the Coffee Craft beer we have seen other customers order a cup and it smells divine.
For food they have a small menu of German inspired fair. We had the cheese tray and the sausages. Both were delicious. The cheeses are made by Cheese Guy John Davis (a famous Okinawa Cheese maker)
Getting There: The brewery is located in the greater Shuri Castle area, if you take the monorail exit the Shuri station. The Gibo station is slightly closer looking on the map; however, there is a steep climb uphill.
Contact Details: