On Oct 11th Japan reopened to visitors! We spent 3 days in Kyoto, one in Kobe, and 3 days in Kinosaki Onsen town. We loved Kyoto and Kobe as well, but the internet has about one million reviews of those, so we've focused here on Kinosaki Onsen.
Kinosaki Onsen is located in Toyooka prefecture, about a 2 hour train ride from Kyoto and Osaka. There are several express trains from each place, but they only run about once per hour or so (in the case of Kyoto, only once ever 3 hours when we were there), so be sure to do a little train line research. There are more frequent trains, but they can take 3-4 hours to get there with a lot of stops, you want the express!
Kinosaki Onsen just celebrated it's 1,300 year anniversary as a tourist destination, and you thought Disneyland had been around forever! As American's it's always amazing to us that places have so much continuous history.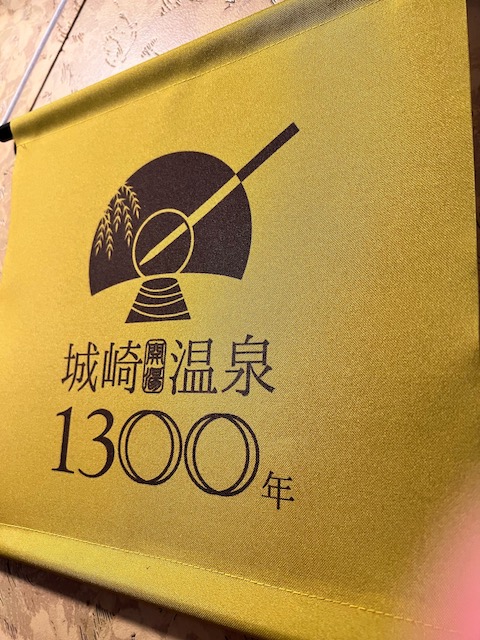 When you arrive by train to Kinosaki onsen you are greeted by this crab instaliation, which is a hint that this is a seafood area, and crab is it's specialty. Even though it's not right on the ocean, it's only a stones throw away (you can see the ocean from the top of the ropeway).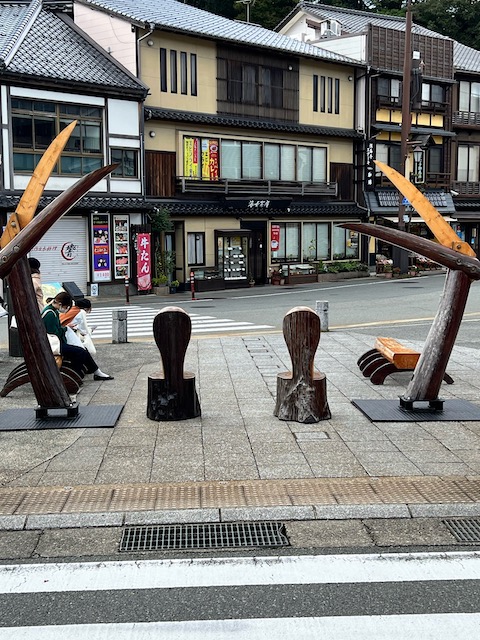 Of course the main reason to visit any onsen town is the hot springs baths! This town has several and almost every lodging will include a pass to visit all of them (or if you are a day tripper, you can pay per onsen, or buy a pass for all of them for about ¥1,200 (in 2022). We stayed at Kinosaki-Onsen Sinonomesou, this was a very nice ryokan just off the main street. The room was Japanese style (meaning tatami mats and futon mattresses) and spacious. The town isn't very big, and it was less than a 150 meter walk to the canal street that you've probably seen in all the reviews and photos.
We didn't get meals at the ryokan since one of us is vegetarian. Most of the ryokan meals are quite expensive, and quite worth it if you can eat the tasty local seafood and beef. Not to worry as there were many good places to eat in town. A couple of particularly good places were the seafood place (which also had a vegetable only tempura set), and the "beer and pizza" place. (If you are on a 1 week trip in Japan, don't get pizza, but as we have lived there for years, we've found we really enjoy "Japanese style" pizzas. Please click on the photos in this gallery for details: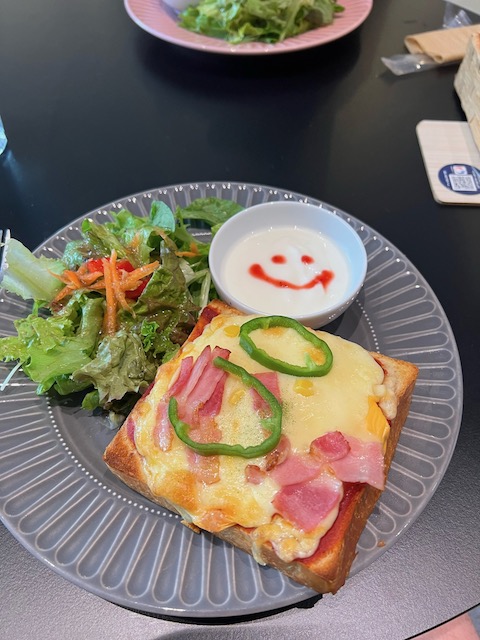 We spent 3 nights in Kinosaki onsen, including one day renting a car from Toyooka station to visit some soba shops and see some rock formations. A thing to remember in Japan is that it's perfectly normal to rent a car for 6 or 12 hours, since so many city tourists come out and about. You do need an "International Driver's Permit" to rent a car, or a SOFA license. The IDP is available from AAA in America for about $20, it's just a standard document that lists your US (or host country's) driver's info. You can pick it up at AAA offices in the US on the spot in about 10 minutes, or by mail. We really enjoyed our trip, and we close with some photos of the outlaying areas.