Our second trip post covid was to Kyushu, and we visited Kagoshima, Kumamoto, and Kurakawa onsen. This post is specific to Kagoshima and Sakurajima.
Overall impressions
It was hot on our travel days, and in fact Kagoshima set a record high of 33.5℃ with 90% humidity. As someone used to the cooling trade winds of Hawaii, this was a bit of sweltering weather for me, but since Japan has cold vending machines on every corner, we stayed hydrated with green tea, Aquarius, and Pocari Sweat. But enough complaining about the weather, what did we see and eat!
ShiroKuma (literally polar bear) iced treats
As we mentioned above it was warm, luckily Kagoshima is known for it's Shirokuma ice. This is a large pile of shaved ice, with sweetened condensed milk, and "fruit cocktail" style frozen fruit. This treat gained popularity after the second world war as a cheap treat that could be made with canned products, as fresh milk and fruit was too expensive for most people at that time. They are easy to find around town, the train station shopping area has shops dedicated to them! We got one at Sengan-en, which is great garden and samuri house that we talk about below.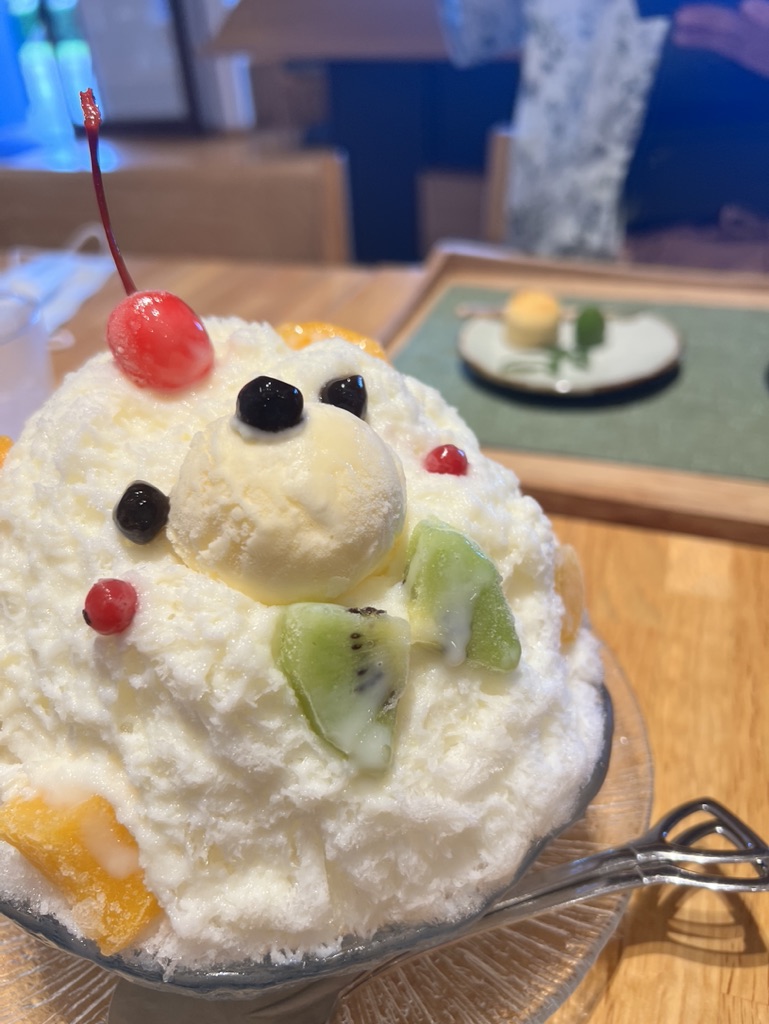 Now you can see why it is called polar bear! This was a particularly good looking one, but most places try to make it look a bit like a cute bear. The "nose" is vanilla ice cream here. Carolyn also got matcha with a green tea sweet that was good.
Sengan-en – Gardens and the home of the Shimadzu clan from 1658
This UNESCO world heritage site is a great example of Japanese gardens, and the house of a well off local family, whose members were important in Japanese history thru the Meiji revolution. The gardens use Sakurajima (The active volcano, described below) as a backdrop to add drama to the scenery. The house is a prime example of Japanese mixing with the newly opened western world. You can get here on the City view bus (The routes are significantly different post COVID, ensure you follow the maps posted on the bus stops and given to you at information desks. The maps online may be out of date!). In the mansion we enjoyed looking at the different nail covers in the beams. Old style Japanese joinery is renowned for using few metal fasteners, but they are still used, and then covered. Enough talk, lets take a look!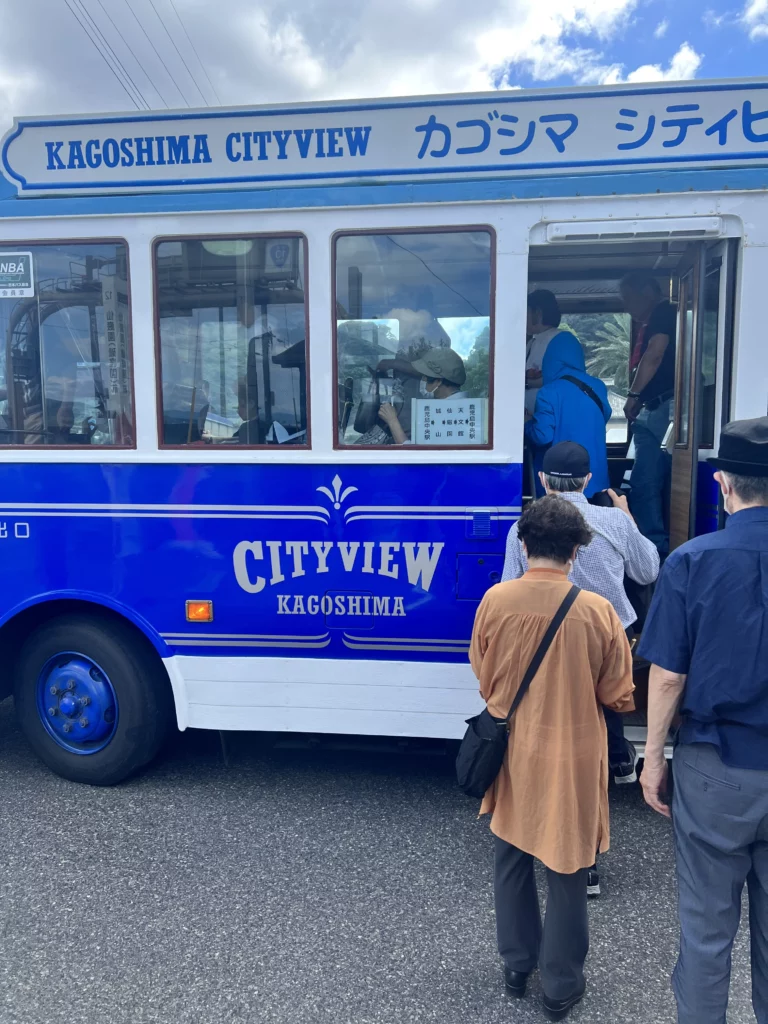 Lots of photos, but it was very photogenic! On to Sakurajima (Literally cherry blossom island, a bit strange for an active volcano, but still pretty!)
Sakurajima Ferry, bus ride, and soft serve
Sakurajima is an active volcano, but the kind that mostly leaks lava and doesn't explode like Mt. St. Helens. It has had some minor explosive eruptions, but is generally safe to visit (most of the time, pay attention to any warnings, and if things are really going on, they won't let you on the ferry to the island!). As we lived on the Big Island of Hawaii, and our dog was literally born in the town of Volcano, a lot of the sites reminded us of our history, but if you didn't live on a Volcano (our house was in Lava Zone 3, which meant USAA wouldn't insure us! (Lava Zone 3 is a 5% chance of lava over 100 years)) these sites will be exciting. Lots of old lava flows and volcanic soil.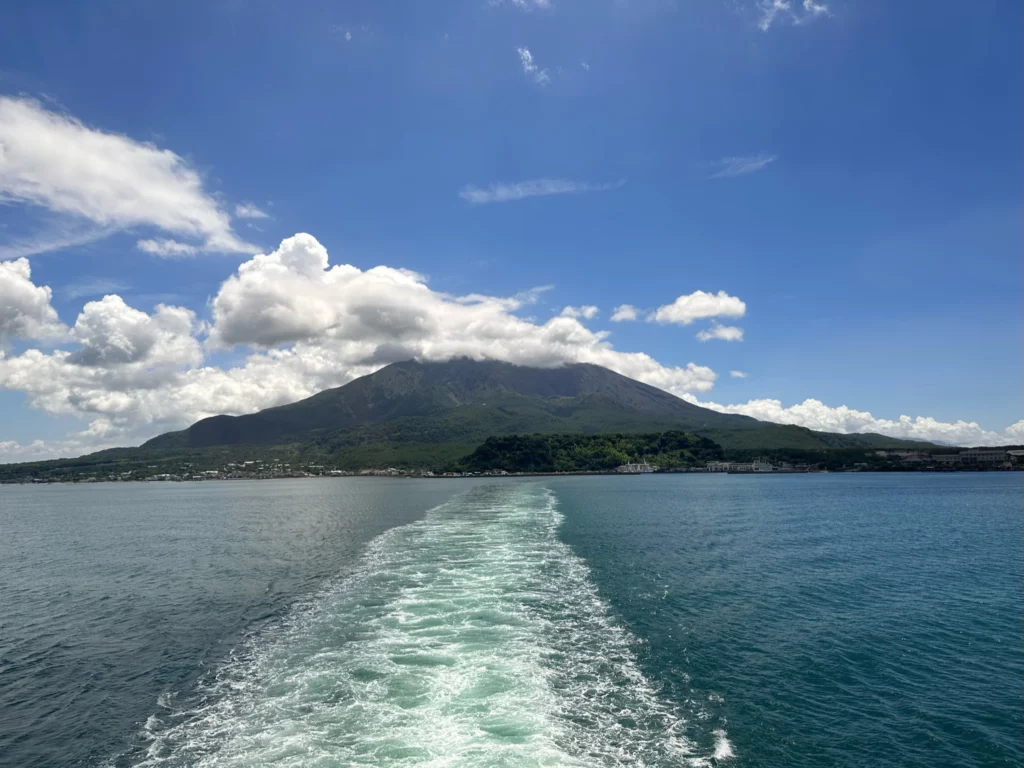 When we were there it was overall very quiet, the tourist bus ride around the island was fun, and is included if you get the CUTE one or two day pass. Now I will say again, the bus routes and ferry schedules have changed a lot the last year or two with COVID. When we went the sightseeing ferry had been suspended (only in March of 2023, just when people are coming back!). I would recommend buying the pass at the information booth at the Kagoshima train station, the ladies there when we went were super helpful and spoke good English, they had guides in English, Korean, Chinese, and of course Japanese for the various routes and passes.
Where is the Ono?
Oh right! More ono needed. In Kasogshima we had a few meals. We were feeling a little unadventurous on the first night and had pasta at Pietro's in the Sun Terrace. It's good pasta, we like them better than somewhere like Olive Garden, but it on that level, chain Italian food. We started off with a french onion soup and cheese bread, then onto pasta.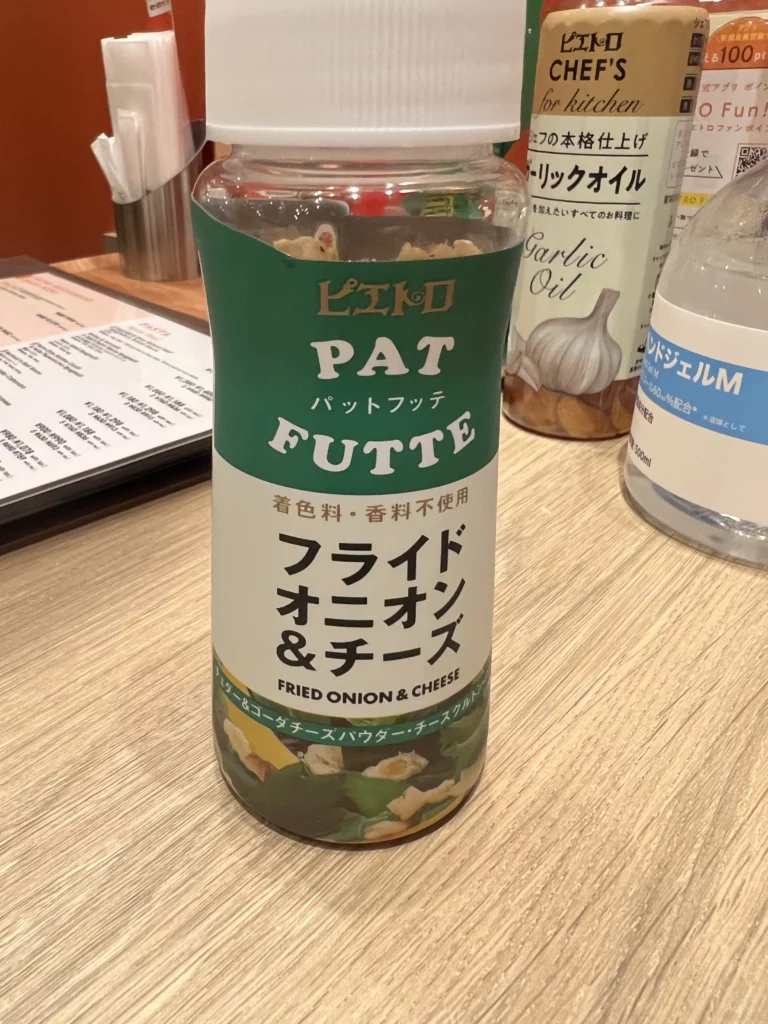 Breakfast the next morning
We went to a Bakery called Backen then next morning. There they had great morning sets of salad, yogurt, choice of "soups" and choice of two fresh baked breads for about ¥1,000. It was all tasty and the bread was fresh. We had black curry and corn soup as our "soups". It was a little warm for us in the middle of summer, but they would be very comforting on a cool day!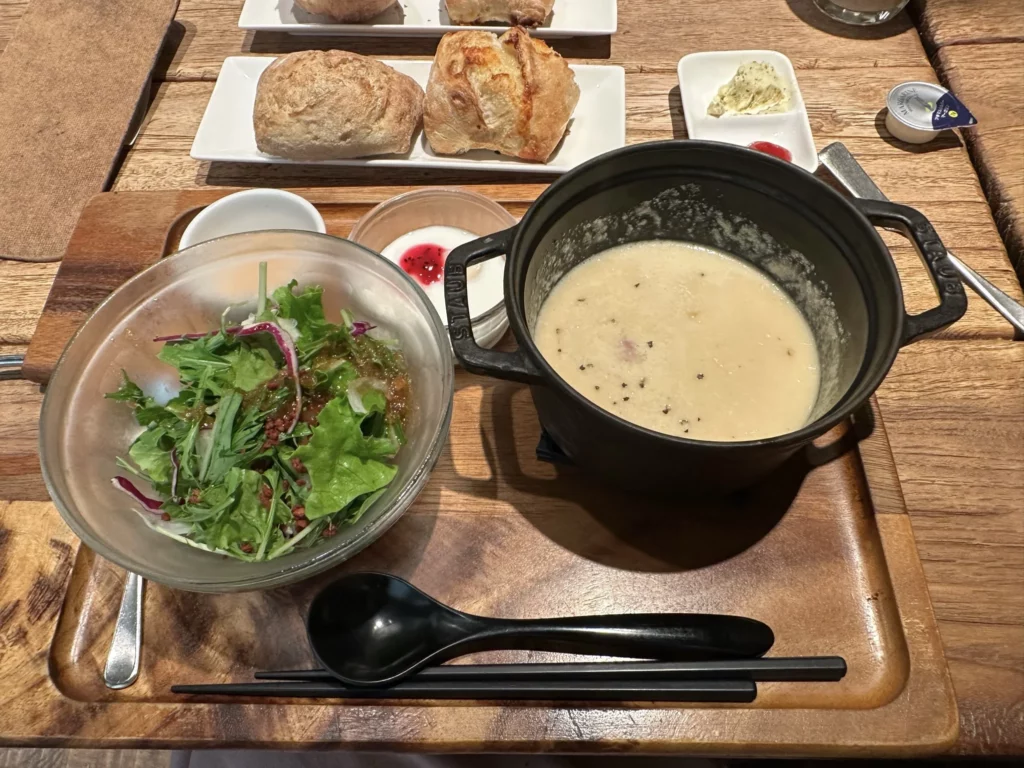 Black pork (Kurabuta) Okonomiyaki at Mangetsu (Full Moon!)
Lastly for our special meals we have okonomiyaki. We have a whole page just on this treat here: OnoOkinawa Okonomiyaki so we won't go into details, if you don't know, it a pancake made with a savory batter, cabbage, and other ingredients (like meat, or kurabuta in this case!). Topped with a savory brown sauce and mayo. The brown sauce is it's own thing, it's sort of like an A1 steak sauce, but more mild and sweet. More similar to Yakisoba sauce. Most places cook the food in front of you on a hot plate, at some you cook it yourself, and this place was one of those. But in a new twist to us, instead of the staff assisting us an iPad played a movie that had every move and the timing. It was fun, and more importantly it was delicious. Mangetsu (Which means full moon, like what a fresh okonomiyaki looks like!) is a chain, and they had English instruction and menu.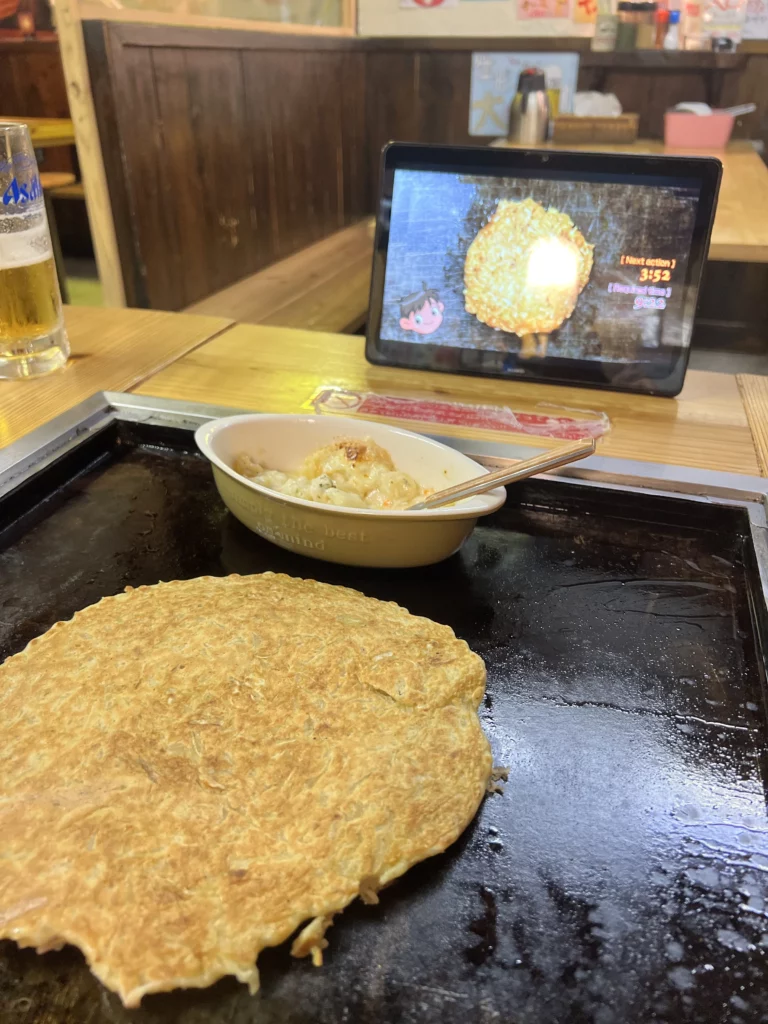 Conclusion
We really enjoyed our two days in Kagoshima city. If we had more time, I think it would be worth renting a car as the more rural aspect of Kagoshima prefecture means that there were things outside the city we couldn't get to easily on public transit. Everything in this post are things that we really enjoyed doing, we also did some other fun things like their historical museums, riding the tram, and general street exploring. We highly recommend getting the "CUTE" one or two day pass and including the extra money for the Sakurjima ferry ride and bus (if you have the time, we took about 4 hours total on the ferry and bus).
Let us know if you've been to Kagoshima and if we've missed any of your favorites!