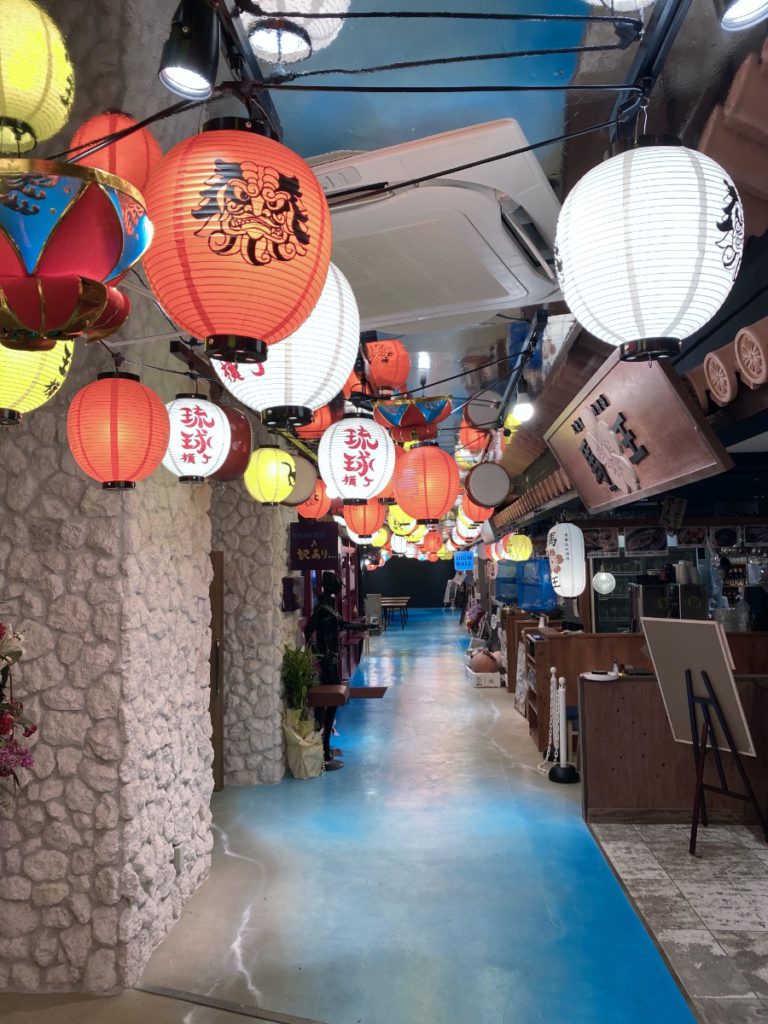 In Feb 2020 a new ramen yokocho ( ラーメン横丁 , in English this translates to Ramen Alley, or Ramen Street ) opened in the basement of the old Mitsukoshi building. (The name of the building is Kokusui Norengai 国際通りのれん街 , although most locals still call it by the old Mitsukoshi building) This building has a bit of a rough history, Mitsukoshi closed around 2013, soon afterwards "happiness Okinawa" opened with anime themed shops and food stand. After about 2 years this closed, then a "food hall" opened with some small food stands and a basement cafeteria. Some of the food was good, but it seemed a little thrown together, and it closed after about 1 year.
Now, in Feb 2020, it has reopened as two new floors. They have put a lot of money and time into this endeavour, and I think this time it will stick! The street level floor has many different restaurants that make you think of a crowded city food district. Seafood, steaks, and the like all have their own shops…but for me, the real magic is in the basement, which has been completely redone with wood effect beams, and not one, not two, but six(!) ramen shops, including the Michelin recommended Sora No Iro Ramen, and two of the shop have Vegan ramen options. Here! in Okinawa!
As of this post we've eaten at two of the Ramen shops, but we plan to try them all and update as we go. We hit the vegan ramens first, as they are still rare here in Okinawa.
Sora no Iro ( ソラノイロ ) Vegan TanTan Men (坦々麺)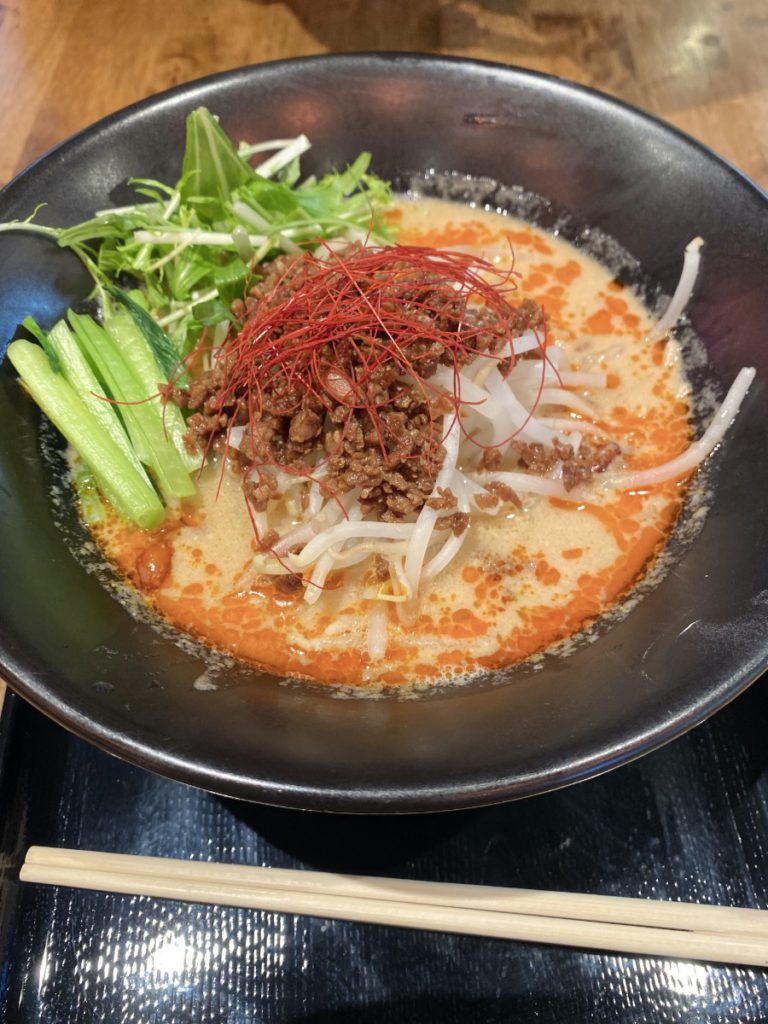 Tantan-men is my favorite style of ramen. It has a thick goma (sesame) soup with ramen noodles. It usually has spicy chili oil, and a scoop of spicy meat (like a taco meat) on top. This version is 100% vegan with soy meat on top but all of the deliciousness throughout! In addition to their primary site, they opened up a new collaboration directly to the right of the shop with Okinawa style Soba in a sort of Ramen style. We haven't tried it yet, but it looked good!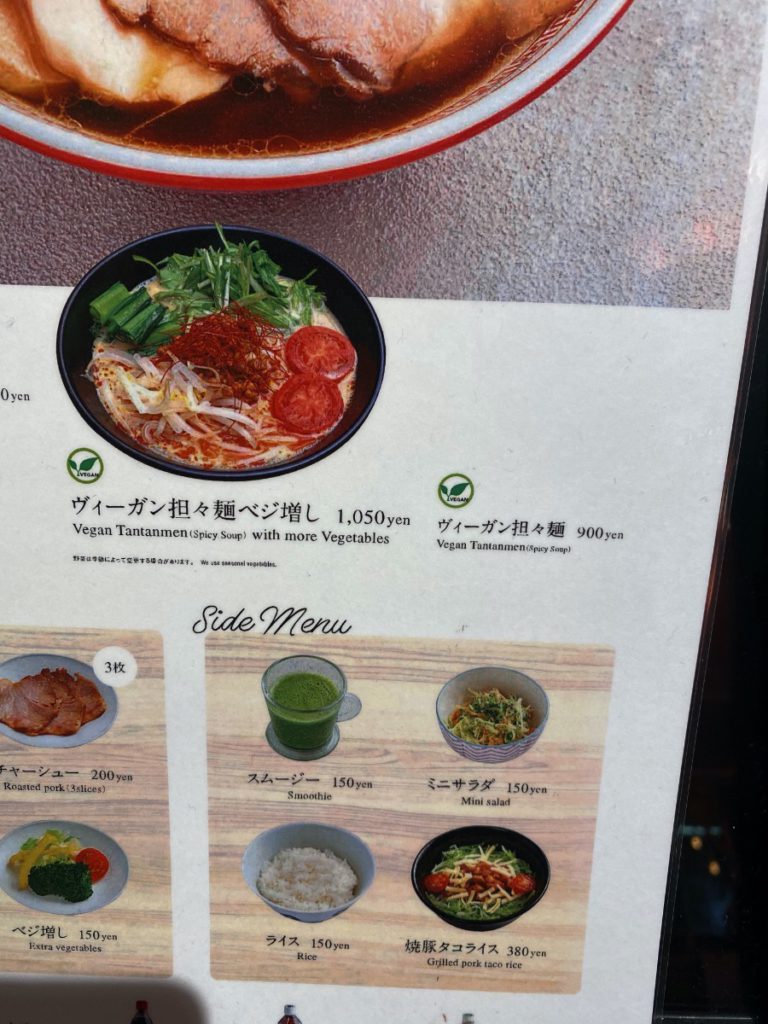 Shinbusakiya ( 炙り味噌らーめん ) – Hokkaido Ramen – meaty/vegan/Gluten Free options — Maybe closed after COVID, please let us know if you have been recently!
This was the second shop we tried (on a different day! Ramen is heavy!) We also tried their vegan ramen. As a plus this shop also offers gluten free ramen! It is quite rare to find gluten free or vegan ramen in Japan, let alone Okinawa! We noticed that the gluten free versions are marked vegetarian, and not vegan. I'm guessing the gluten free noodles use egg or milk, but we didn't ask. We tried the vegan spicy miso flavor, with gluten. The taste was good, but it was more like miso soup than a true ramen. Carolyn and I both liked the Sora no Iro taste better on the vegan side. The ordering is done via a touch screen kiosk. After you have inserted your money & selected your ramen, the machine will give you some tickets. Given the tickets to the folks at the counter and they will give you a "pager" that will beep when your order is ready.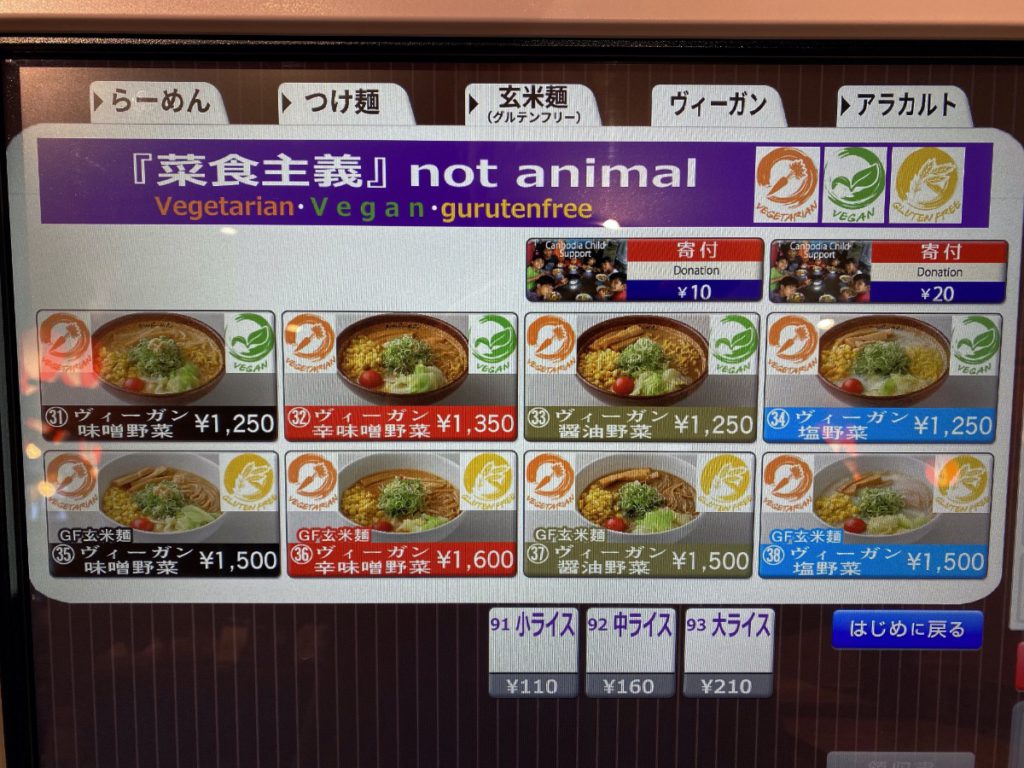 We did get the fried chicken, well not Carolyn as she is vegetarian, but it was a generous portion of tasty, crispy, fried chicken cutlet. As we ordered one ramen with a side of chicken the cook gave us an extra bowl to split, so kind! The corn was briefly stir fried and and had a pleasant taste. Their website (Japanese only) is located here: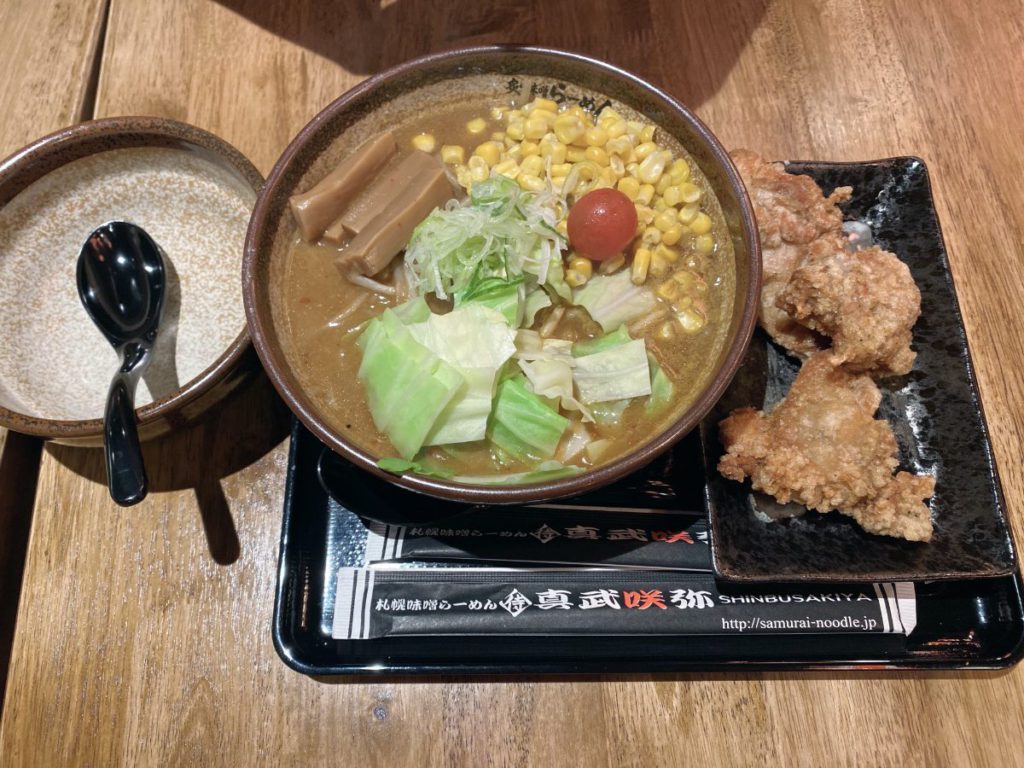 Other Ramen Shops
There are 3 other ramen shops that we haven't mentioned. We haven't tried them yet, so can't comment on how tasty they might be (although really, I've never had a ramen that was truly bad). Please visit the Naha Kokasai Dori Ramen street and try their ramens!
Beer!
There is also a bar on the floor, which is open only at night. They have a wide range of local brews like Wolfbrau, Ukishima, Sango (Coral) , and others. They are a little more expensive than if you buy them directly from the breweries, but if you like beer with your ramen this is the place to go.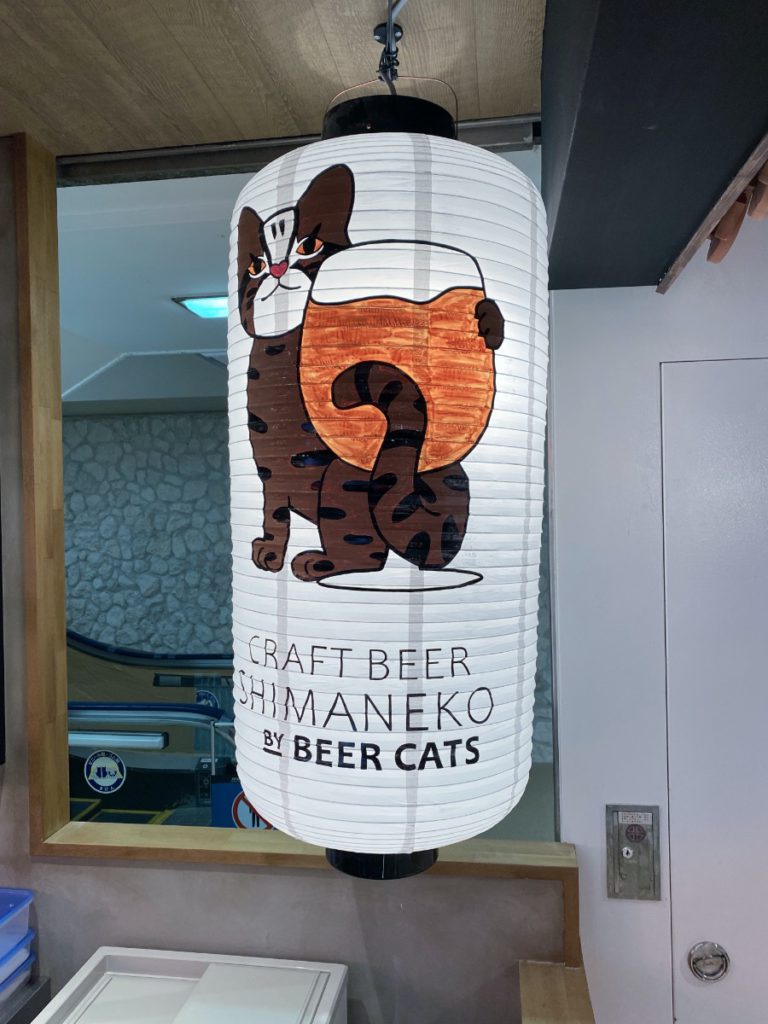 Other eats on the floor
Outside of the "ramen zone" there are 3 or 4 other restaurants on the floor, closed during lunch but open at night. We haven't tried them but they looked mostly like seafood izakaya fare. We will be sure to check them out and report back soon!
Location:
The Location is on Kokasai street. Across the street from the Mega Donki store. About a 5-8 minute walk from the Makishi monorail station depending how you hit the lights.
Google Maps location: https://g.page/kokusaidori-norengai?share