While on a trip to Kusatsu onsen, I encountered quite a few tasty foods, so here is a look below at a few of the things I ate, in no particular order.
ぬれおかき nureokaki: The best way to describe this is a grilled rice cracker skewer, with some seasonings/toppings. My husband got the spicy one and I got one with black pepper and mayo. They were really good, but the spicy one was way too spicy. My husband likes spicy food but even he said the spice was too overpowering.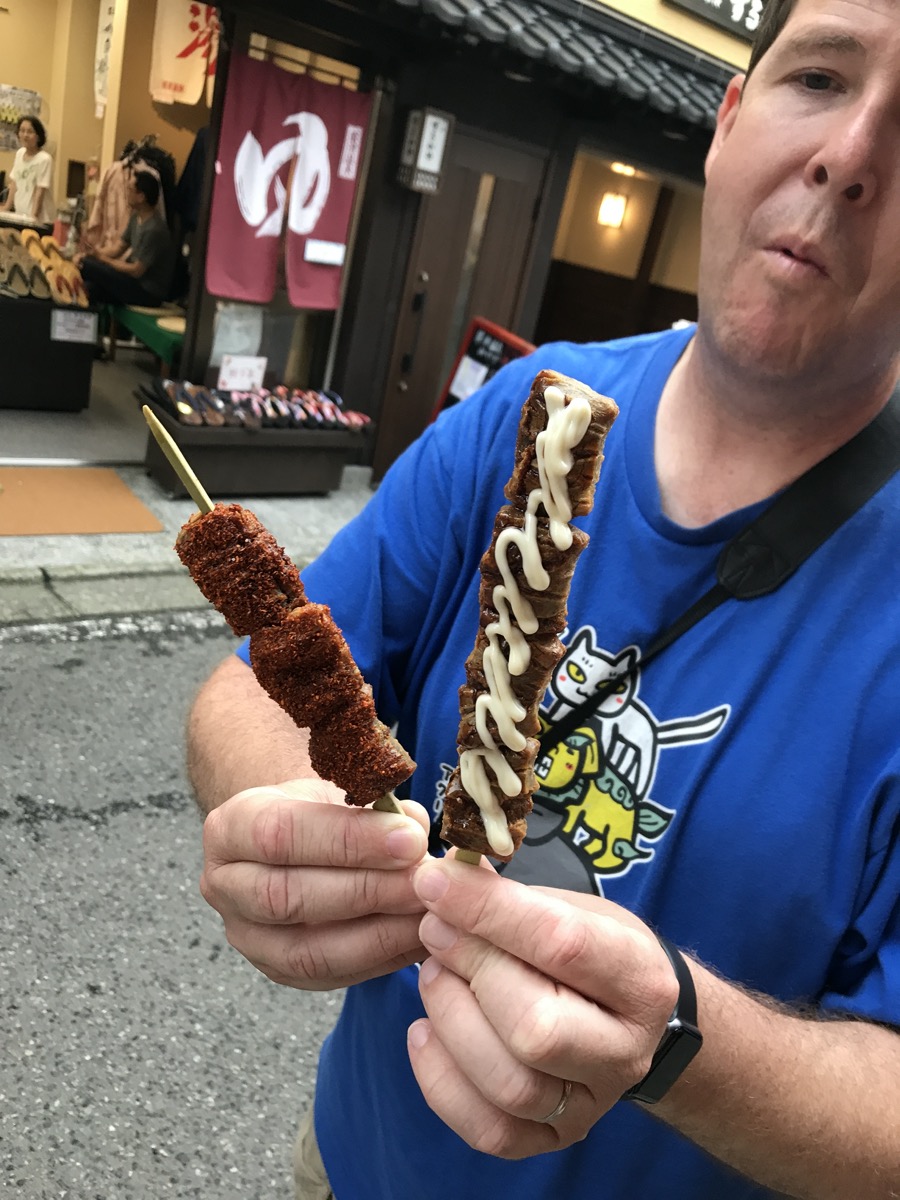 饅頭 manjuu: like any good onsen town, there is a ton of manjuu around. I enjoyed the karintou manjuu (crunchy manjuu) the best, but there are a few types to try out here. The outside of the manjuu is a little crispy and the inside is smooth bean paste.
揚げまんじゅう age-manjuu: so this is manjuu… deep-fried. Oh my. The taste was good, but definitely felt a bit unhealthy! I would limit how many of these you eat, but definitely try at least one.
温泉卵 onsen tamago: eggs soft-boiled in onsen water. When you crack it open into a bowl, the are soft and creamy, cooked to perfection. Usually they have a little shoyu or sauce to add to it, and you just eat it with a spoon. My husband is addicted to these.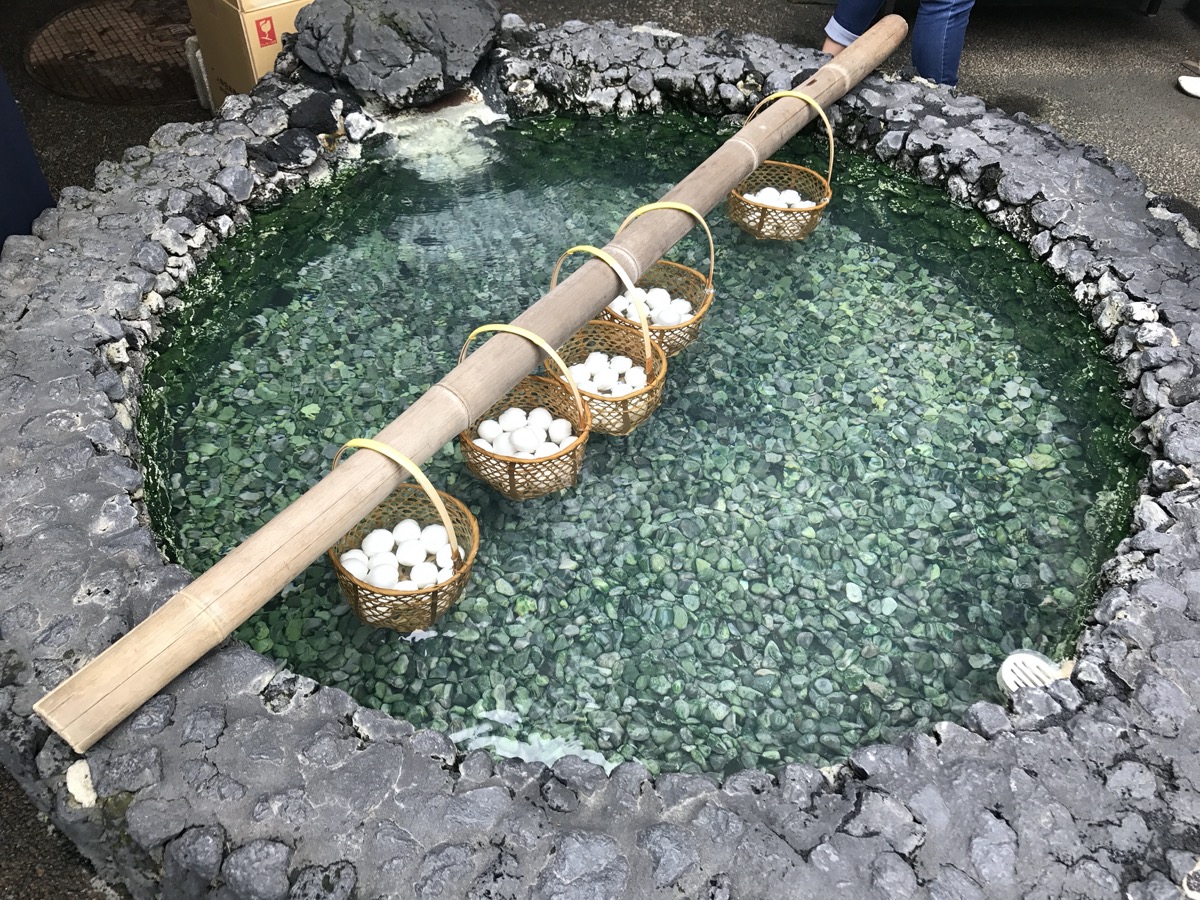 温泉卵ソフト onsen egg soft-serve ice cream: okay, so this sounds kinda gross… egg flavored ice cream? But it really means like a creamy egg-y custard-pudding flavor, not boiled eggs flavor. It was really tasty, and I was really surprised at how good it was. I was initially a little apprehensive of the flavor name.
蕎麦 soba: When in mainland Japan, I pretty much always eat soba. Especially whenever I am in mountainous or onsen areas. Soba here was pretty good, so I was not disappointed. We specifically ate at Mikuni-ya 三國家, which had a long line, but it was worth it. So if you want to eat here during the busy season, be sure to arrive early! They had a special plate of soba for 2-3 servings, then you can order your dipping soup and tempura separately. This is probably good for families or very hungry couples, but we each ended up ordering our own individual servings since we knew we would not be able to finish that much food. Plus for 2 people it is probably a bit cheaper to just order individually anyway.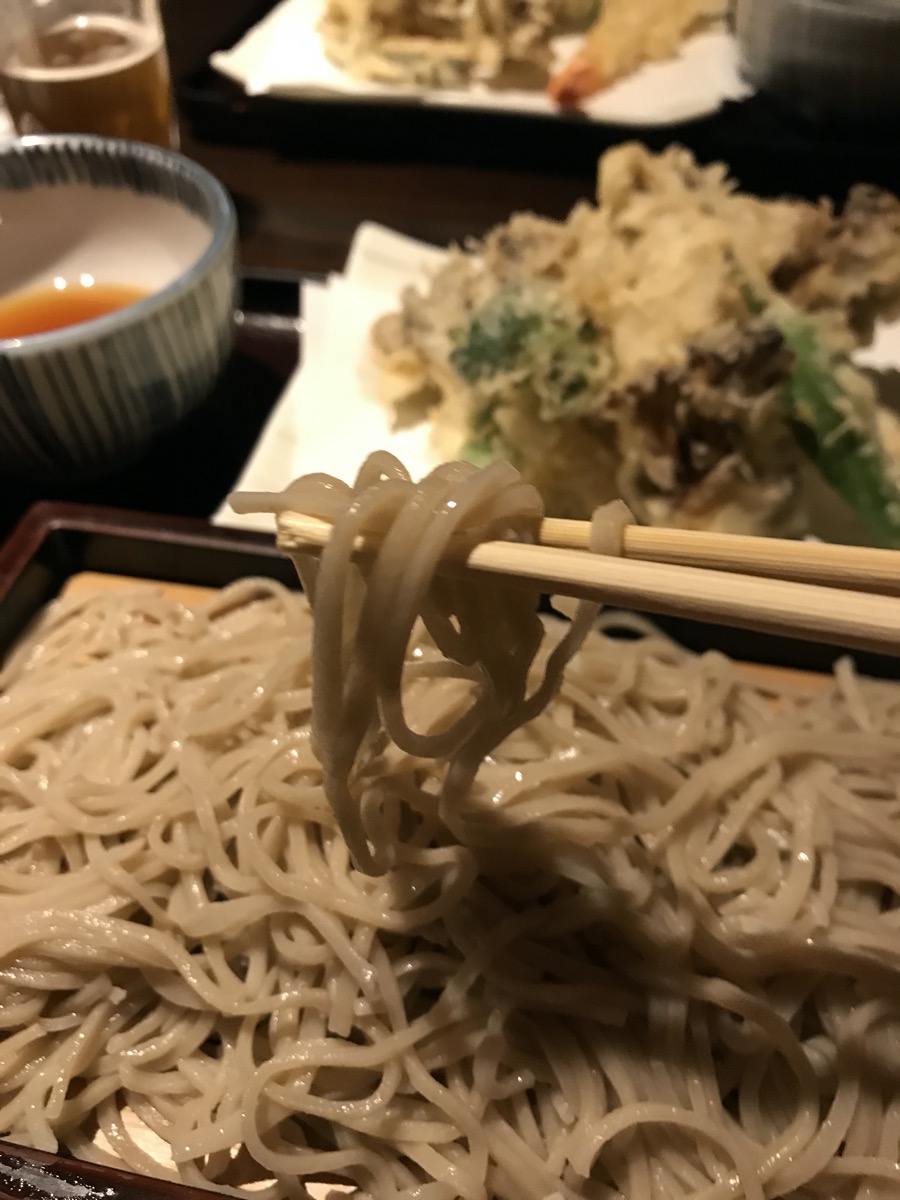 舞茸天ぷら maitake tenpura: maitake is a type of mushroom, the name actual means "dancing mushroom" and is supposed to be pretty healthy for you. Made into tempura it is delicious (but probably not as healthy). I ate it with my soba.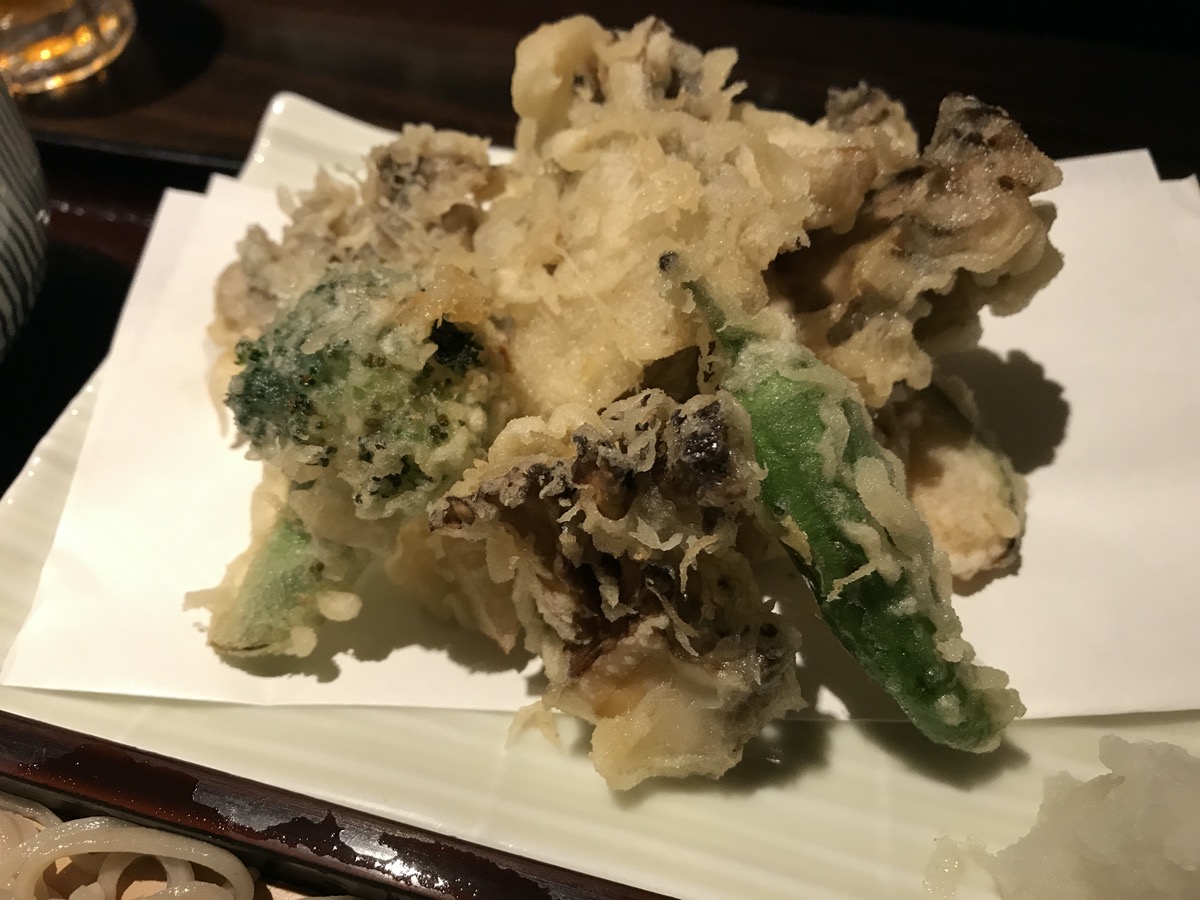 せんべい senbei: some fancy rice crackers were sold; this one was shoyu-negi flavor (soy sauce and green onion). It was a large cracker with a rather sweet chewy outside.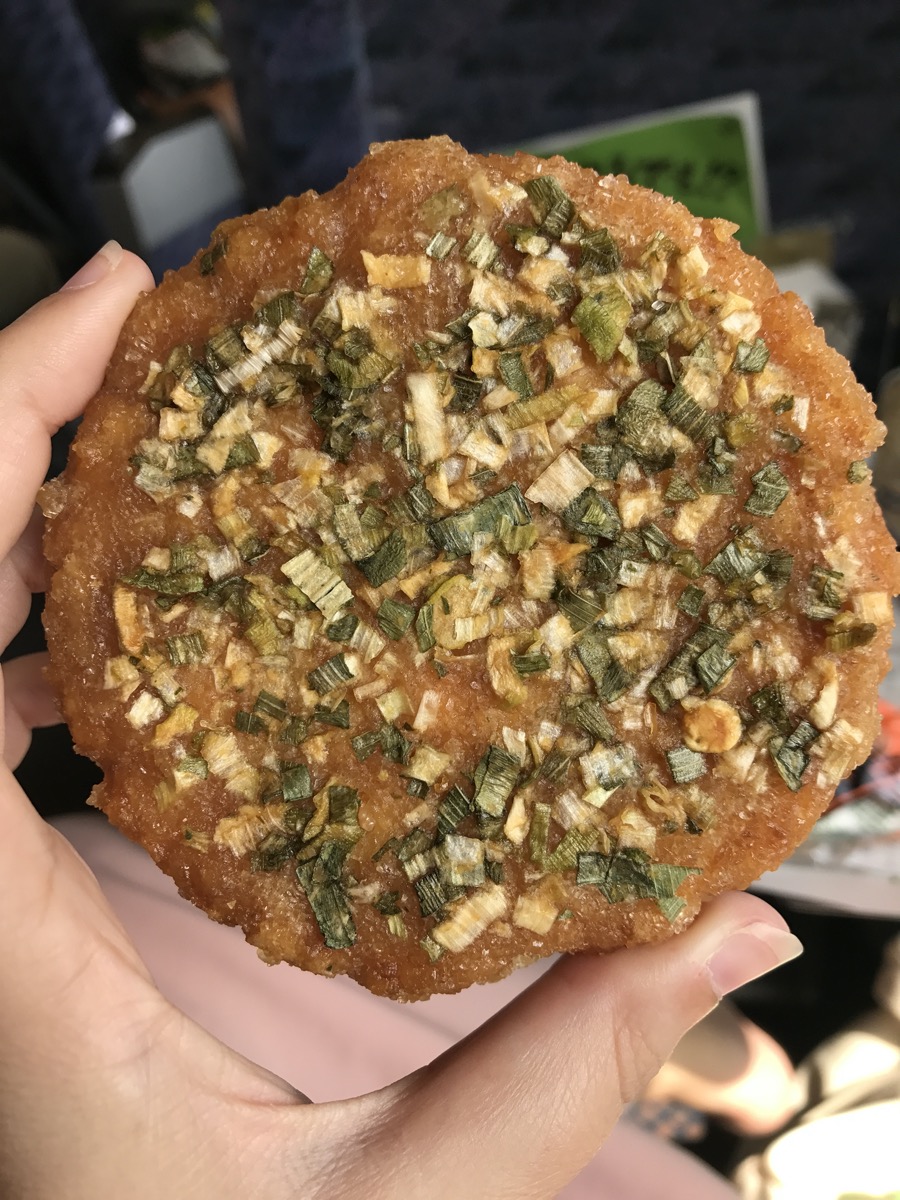 甘納豆 Amanatto: a kind of sweetened beans, which does not bear fruit below 700 meters above sea level. First the beans are dried, then put into water and finally they are cooked in sugar.
---
Let's not forget the beer and drinks.
Cider, two types: 湯けむりサイダー Yu-kemuri (not pictured) and 大滝乃湯サイダー Otaki-no-yu (pictured): Awful. Also remember cider in Japan refers to soda pop, not apples or alcohol. I do not recommend unless you really like sweet sugary drinks. It is made with natural water form the onsen area or something.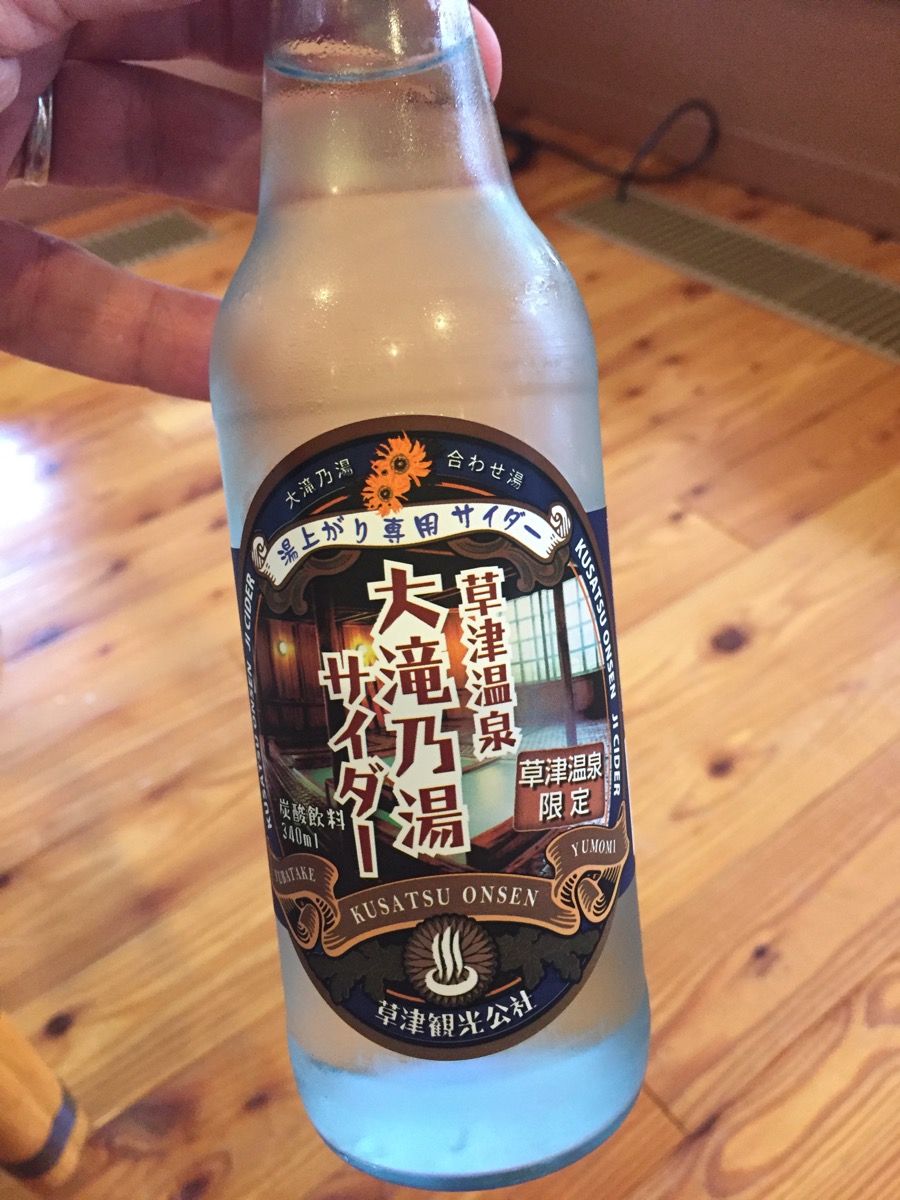 軽井沢ビール Karuizawa beer: Turns out this area is close to Kusatsu, so many of the beers were available. I have seen 1 or 2 of these in Okinawa, but here I saw so many different types.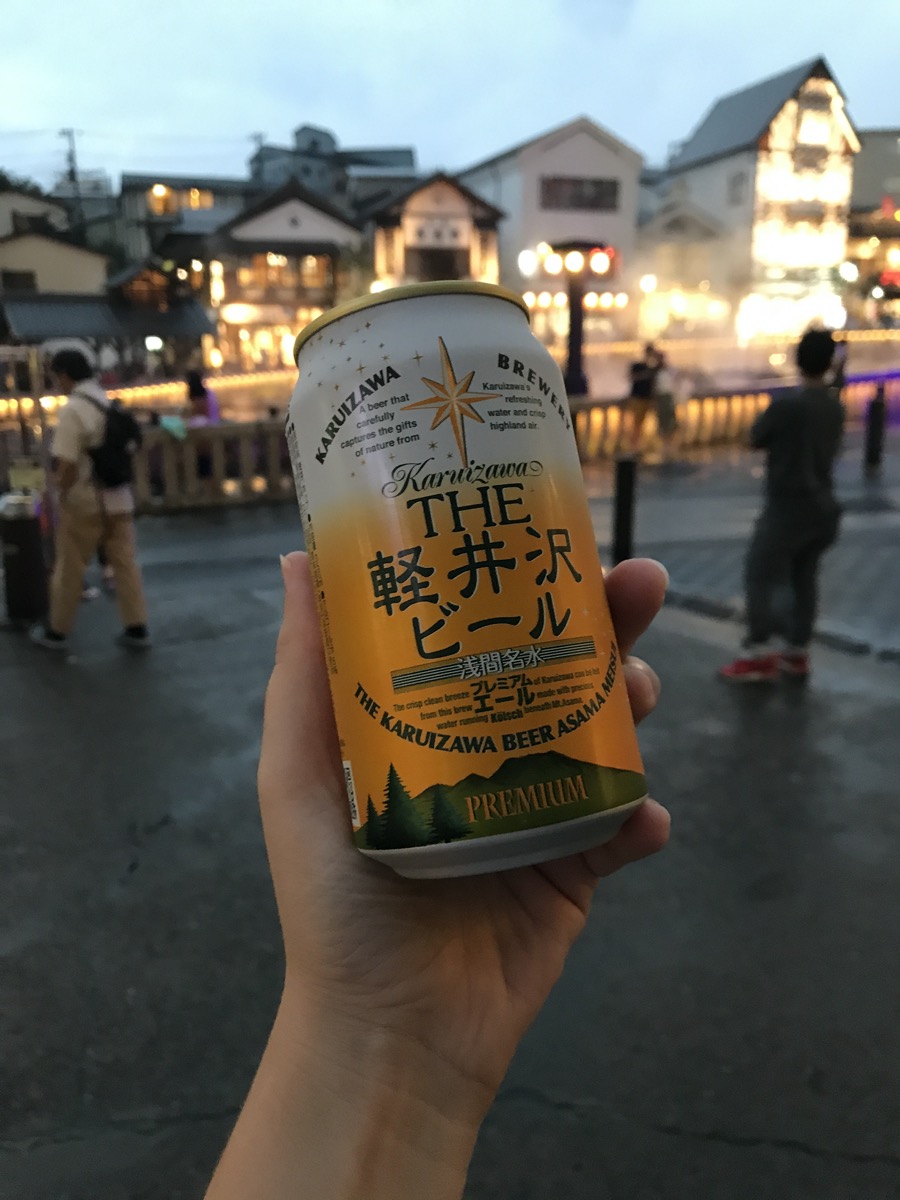 草津温泉物語 Kusatsu onsen monogatari beer: We saw 3 different types with this label. We tried them all and enjoyed each one. The price for them was also not too unreasonable, ~500yen.
---
Special mention: While in Ueno, I could not resist getting a donut from Shiretoko donuts. It is a "wasshoi" festival panda. "Wasshoi" ワッショイ is chant used in Japanese festivals.