喫茶店 kissaten: traditional Japanese tearoom/coffeeshop serving drinks, sweets and light meals; often they have a nostalgic vibe as most of the shops look as if they're stuck in time.
---
I have a thing for the retro kissaten. Something about them just feels peaceful once you step through the front door. Sure, there are tons of trendy, cute, modern, hipster cafes with high-end coffees and stylish desserts sprouting up everywhere but for the quintessential Japanese coffee shop experience an old-style kissaten is where it is at.
Today took me to CoffeeShop Laramie コーヒーシャープララミー. There is no parking at the shop, so you need to go to the paid parking lots (there is one around the corner for 100y/30 min). This place is only open Fridays and Saturdays, from 1-5pm.
As I walked up, the outside says "Coffee & Pancakes" plainly on the outside. A step through the door, and you are in a difference time and place. There are 2 working jukeboxes, some table seating, and counter seating. A quick warning, the seating is a little low to the ground; if I had brought my husband (194 cm) he would have had a hard time fitting. The menu is pretty simple, pancakes, desserts, and drinks. I think they may occasionally have some light meal on the menu but there was not today.
I ordered the pancake and coffee set for 850yen, with the Laramie blend coffee (might as well try out the house coffee). While I was waiting for my food, an older gent came in got a coffee, played some songs on the jukebox, and read the newspaper. It added to the retro atmosphere. There are vaguely some "Hawaiian"-themed items up, which made me chuckle a bit and the shop is entirely wood-paneled.
I noticed when I went to pay that even the cash register is retro! I admit, I thought that was a nice touch. Anyway, the shop staff was kind, the food and coffee was really good, plus an awesome retro atmosphere. If you are looking for a retro kissaten in Okinawa, I would definitely recommend trying out this little place in Naha.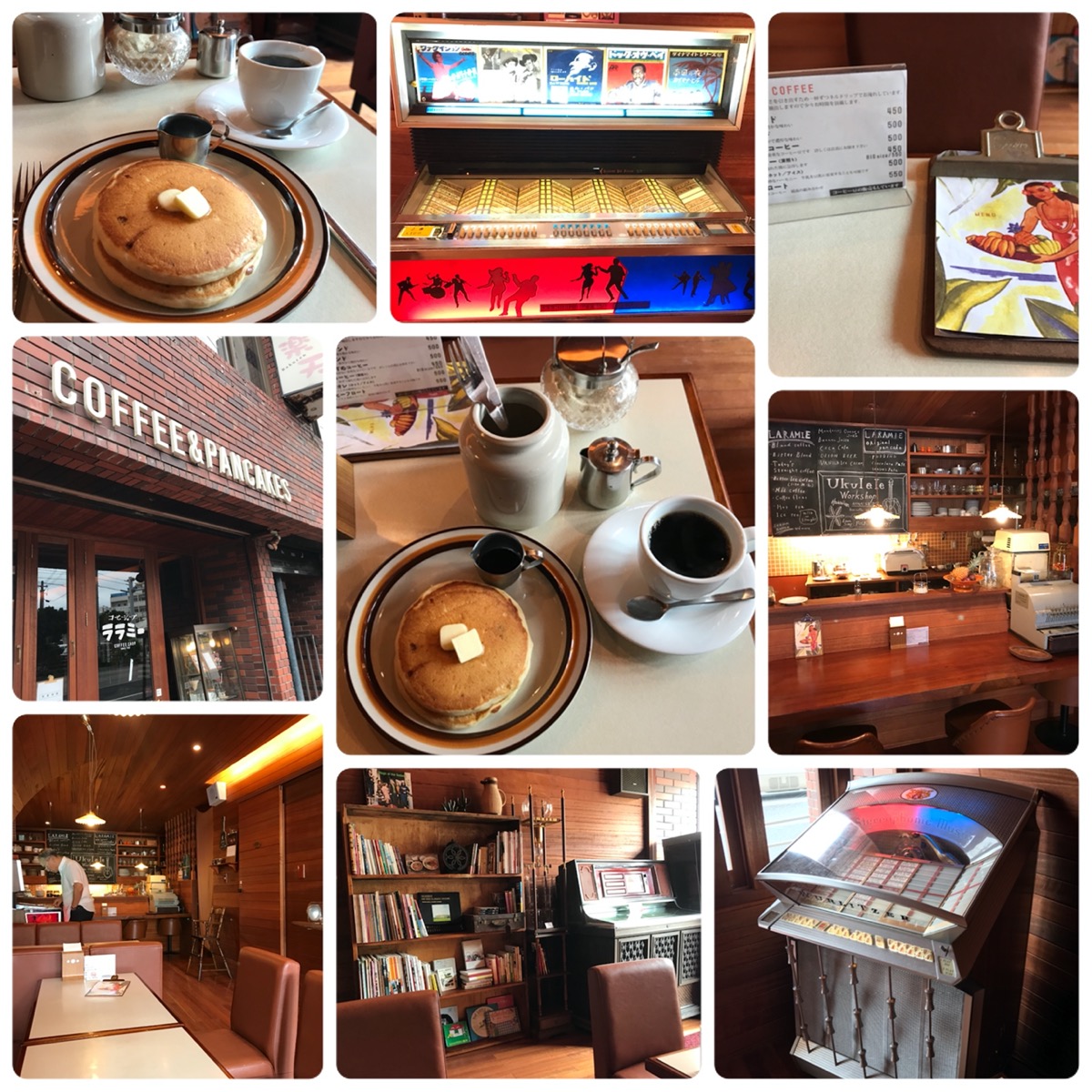 ---
address: https://goo.gl/maps/QDuWEYZtdF92
---
looking for more retro kissaten in Okinawa? More posts coming soon, but also check out Genten 原点: Coffee Specialist in Okinawa.