There are two types of "soba" here in Okinawa: Japanese mainland-style soba 蕎麦, made from buckwheat, and Okinawa soba, made from regular flour (and are also thicker noodles). Okinawa soba is typically served hot in a broth derived from pork, and typically topped with some sort of pork meats (there are various types which is for a later post). Also in Okinawa language, it is pronounced すば "suba" (not soba).
Mainland-style soba is what most foreigners are familiar with when they hear the term soba. A few places here in Okinawa do in fact serve up some pretty delicious homemade soba noodles; zaru soba or mori soba (or sometimes seiro soba) served chilled with a tsuyu つゆ dipping sauce (dashi and shoyu* base) or kake soba served warm in a tsuyu soup.
*shoyu 醤油: in Hawai'i everyone calls "soy sauce" by the Japanese name, shoyu.
One of my favorite places is near the university. It has a really nice name: 美波 "Minami," which in this case translates to "beautiful (美) wave (波)." I suspect it may also be a pun, because "minami" can also be written as the kanji 南 which means "south," and Okinawa is the "southern islands." I usually order up their monthly special, which last month was a real treat– wild mountain vegetable tempura 山菜天ぷら蕎麦: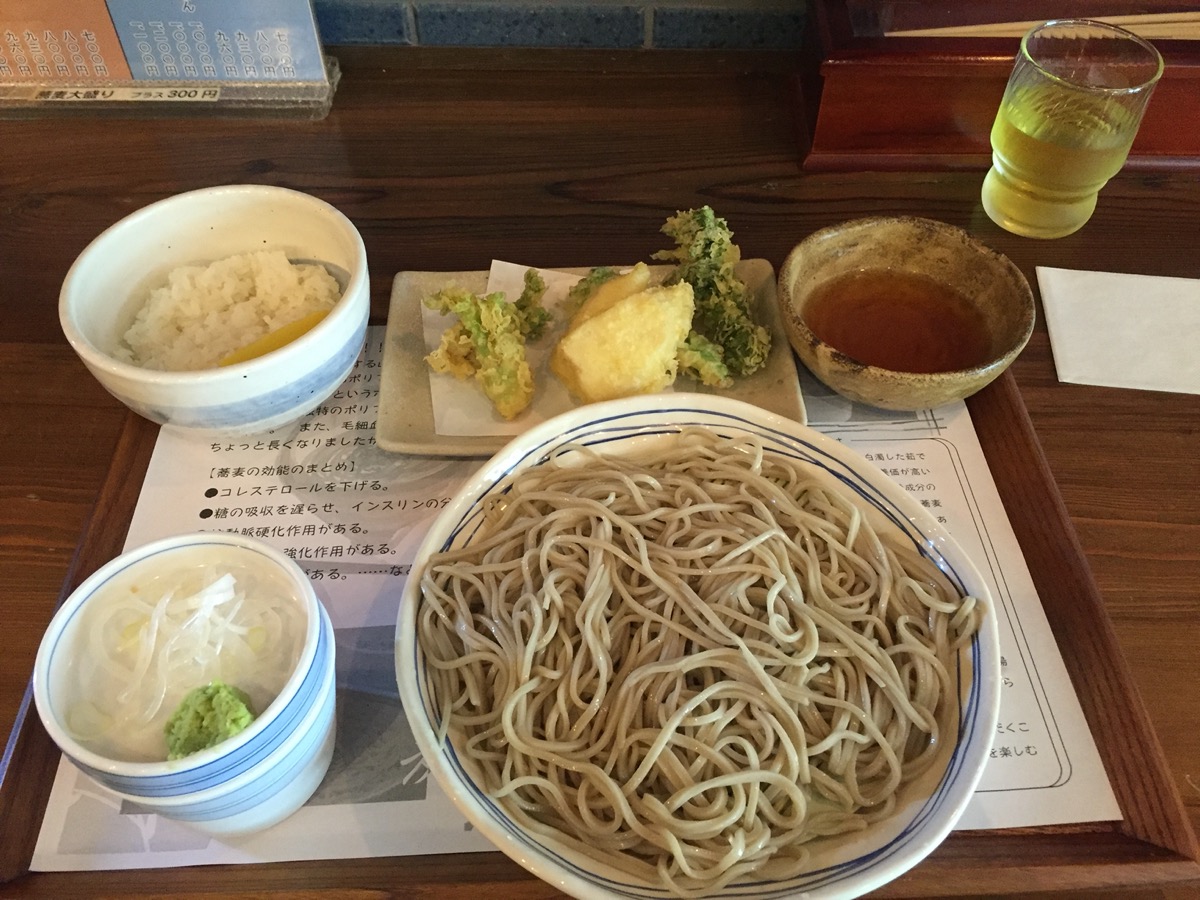 kake soba かけ蕎麦, perfect for chilly days: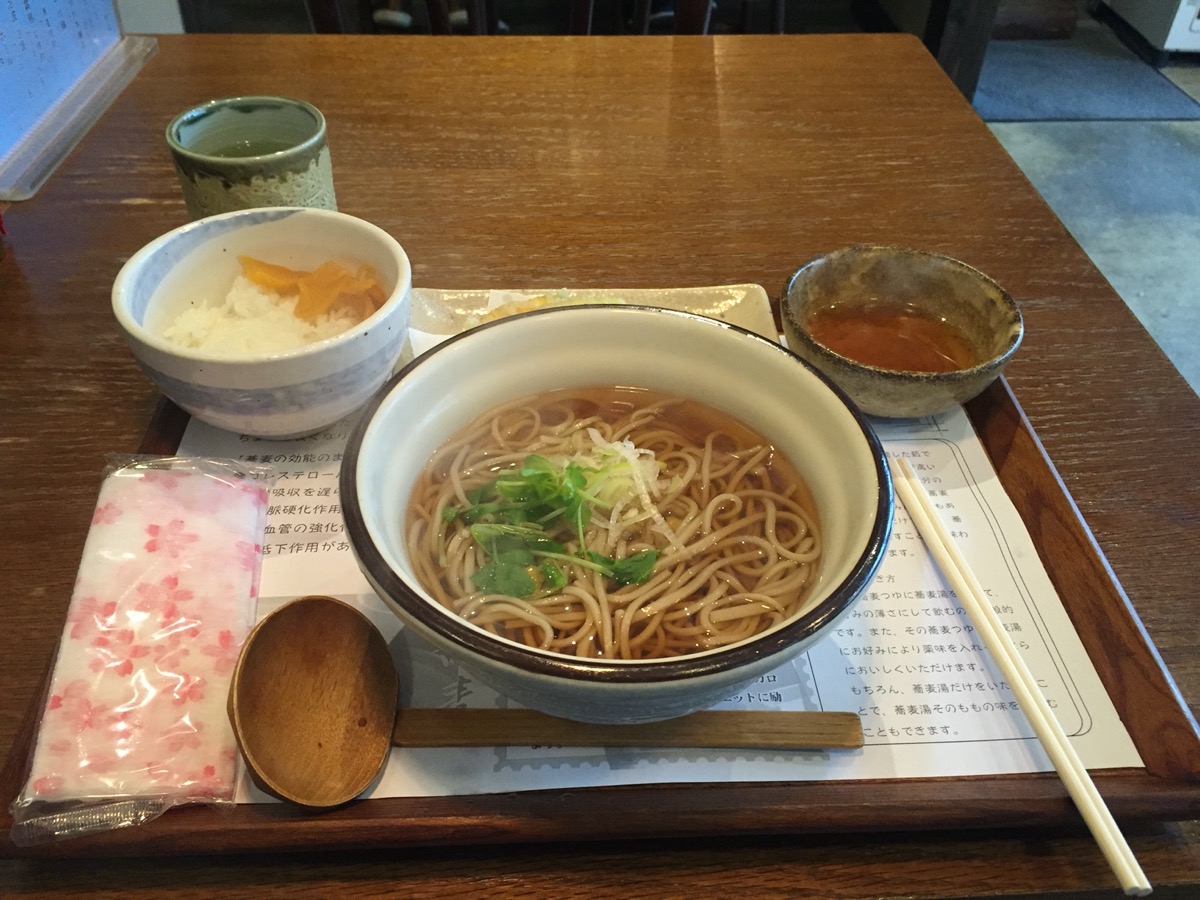 Mushroom tempura soba きのこ天ぷら蕎麦: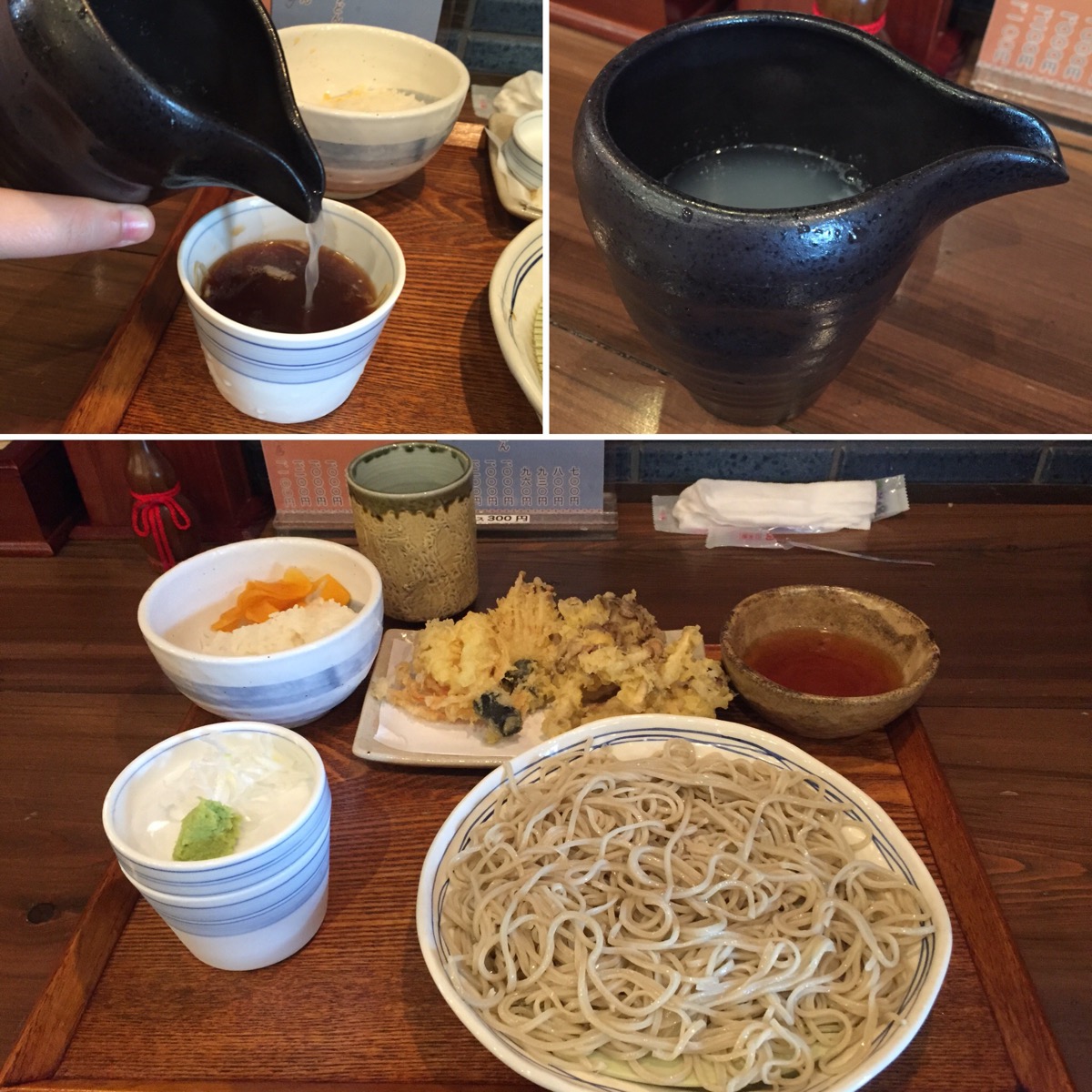 In the picture, on the top, what is in the little cup?  When you order cold soba, after you finish dipping and eating your noodles, the waitress will come by with a cup of そば湯 soba-yu, hot water that the noodles were cooked in! You add this to your leftover tsuyu to make a broth, and drink it. Delicious.
Here in Okinawa, we also have some variations on traditional mainland soba. For instance "sannin" soba. Sannin is the Okinawan word for shell ginger; in Japanese it is "gettou" 月桃. There is a famous little soba shop in Naha called Minosaku that makes this type of soba. I highly recommend visiting some day. The gentle fragrance of the shell ginger really went well. Next time, I hope to try their tumeric noodles (ウコン ukon in Japanese, うっちん ucchin in Okinawan).
Gettou soba 月桃蕎麦 served with a side tempura 天ぷら, look at that lovely green color: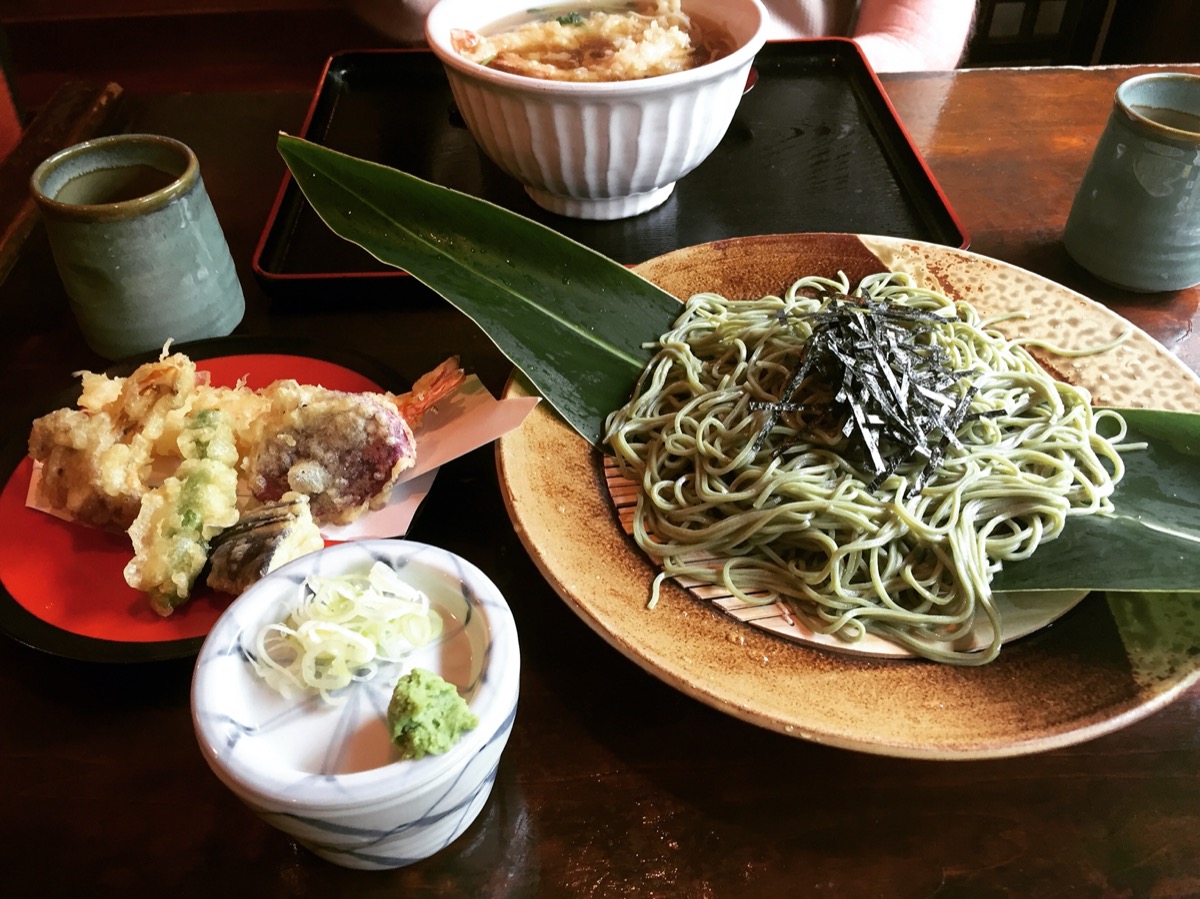 Addresses of soba places I have visited in Okinawa (and would recommend!), all noodles are made in house:
Minami 美波: 〒903-0125 沖縄県中頭郡西原町上原2-11-1
https://goo.gl/maps/Bug7JchEEQ12 After 10 years of business, the owner has closed this restaurant. I am still sad about it.
---
Kazokuan 日本蕎麦 家族庵: 157 Morikawa, Nishihara-chō, Nakagami-gun, Okinawa-ken 903-0128
https://goo.gl/maps/hFEv6fv5heG2
*This is a located in what looks like a family home in a back neighborhood. Lunch sets also come with soba maki (cut soba wrapped in nori like sushi!).
---
Minosaku 美濃作: 3 Chome-8-2 Kumoji, Naha-shi, Okinawa-ken 900-0015
https://goo.gl/maps/RCSKCHdXzYU2
*Okinawan twist on mainland soba
---
Matsudaira 手打ち日本蕎麦 松平 (separate blog post here): 2 Chome-19-3 Minatogawa, Urasoe-shi, Okinawa-ken 901-2134 
https://goo.gl/maps/313rXc9qsPF2
*Speciality Izumo soba
---
Esu no Hana 江州の花 (separate post here): 326-224 Taiho, Ogimi Village, Kunigami-gun, Okinawa-ken 905-1315
https://goo.gl/maps/Ng2bZbbzb7z
*Come here for local Okinawa-grown buckwheat soba and unlimited tempura!
---
Minatogawa 日本蕎麦南都川: 〒901-2134 Okinawa-ken, Urasoe-shi, Minatogawa, 1 Chome−5−11