石畳道 ishidatami michi: stone path
歴史の道 (rekishi no michi): path of history, historical path
Another "Path of History?!" Yes, another historical path from the Ryukyuan era, this time located in Kunigami 国頭 district (northern part of the main island). It is part of the original National road that used to connect Shuri-jo to the northern part of the island, built sometime around the fifteenth century.
The name of this one is Kunigami-hou seikaidou 国頭方西海道 meaning something like Kunigami west ocean road.
To walk this path, a good starting point is the Onna Village Museum, since there is decent parking. There is a map post here that shows the route. You notice there is some path and sites further up at Nakadomari 仲泊 milestone, but we skipped that portion for today and only went from just before the "You are here" (by the Nakadomari ruins) to #6 Yamada stone bridge. We will save the rest of the hike for another day: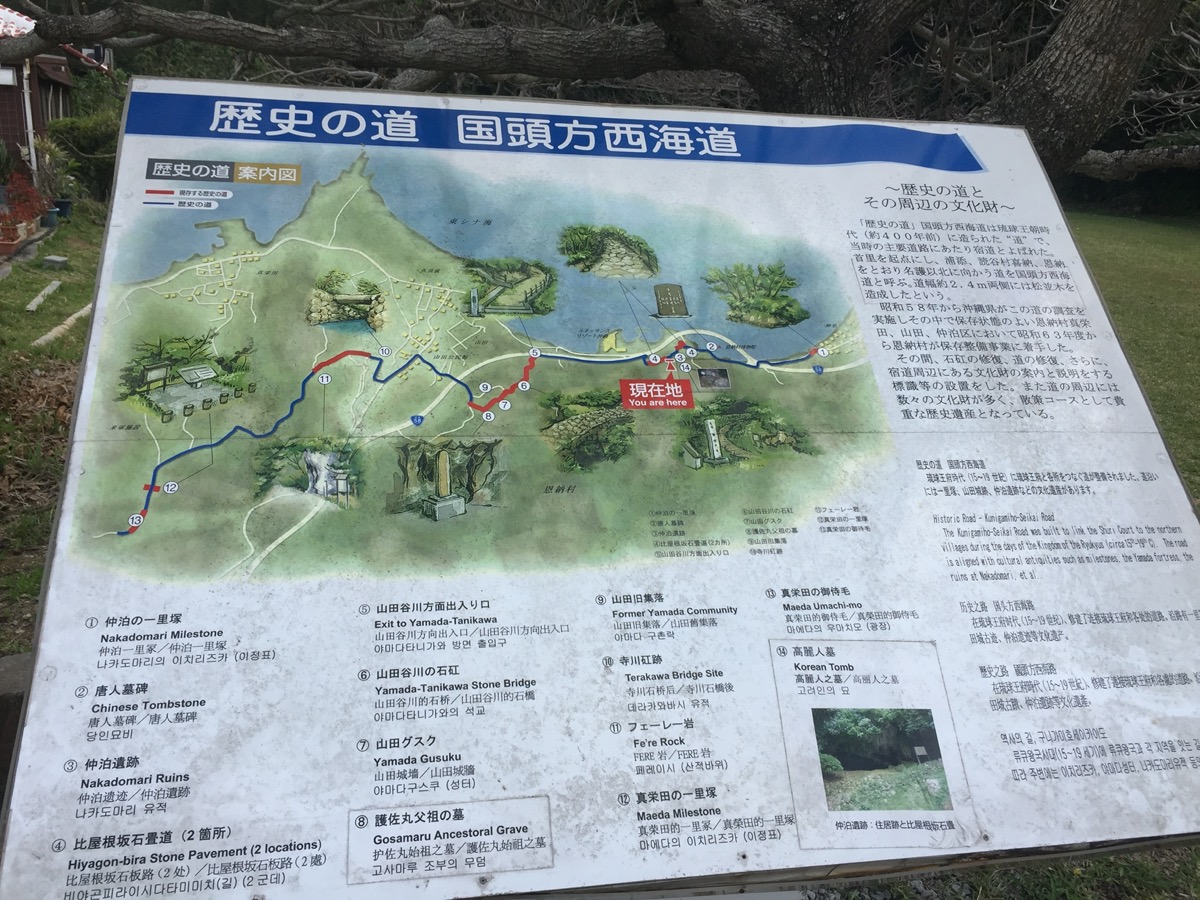 As you start walking from the Onna museum, there is an interesting restaurant called 田芋 Taimo (or Taamu/Taanmu in Okinawan). There is a Spiderman statue out front, but it just serves local Okinawan food.
First, you will come to the stone path: 比屋根坂の石畳道  Hiyagon-bira ishidatami michi ("bira" means "slope", "ishidatami michi" is "stone path"). It is a steep climb up, but you will be rewarded with some views. Next you descend and pop out by Rt. 6.
Now you walk along Rt. 6 for a bit (with all that traffic) until just past the Renaissance Resort where the stone path picks back up again. It will be obvious and there will be signs, so don't try to turn down any unmarked paths.
From here, you will head (mostly upwards again!) to 山田谷川の石矼 Yamada Yaagaa Ishibashi (ishibashi is "stone bridge") made from Ryukyu limestone; the bridge was restored some years ago. *Note 谷川 in Okinawan is pronounced "yaagaa" instead of "sakugawa" or "tanigawa," and unfortunately the "official" map posted has this incorrect after re-checking with some reliable sources regarding this Ryukyuan path and historical properties, as well as the signs actually at the bridge! Anyway, this bridge is an example of Ryukyuan engineering. There was a small stream and plenty of foliage (so you know, bug spray!). At this point we turned around before it got dark out since this was an early evening walk.
This time around we did not make it up to Yamada gusuku 山田グスク, residence for Lord Gosamaru's ancestors, or the further stops by some more ruins, the tomb of Gosamaru's ancestors, and a few more historical properties. We will save it for next time and update this post.
pictures: https://imgur.com/a/2Zfxp
---
addresses for path we walked:
Onna Museum (with parking): https://goo.gl/maps/dEAYS8ZKSQ32
Yamada Yaagaa stone bridge (from my understanding you cannot access this from the road it claims you can on google, so be careful, this is only for walking purposes): https://goo.gl/maps/v5SzTH6WYyn
Yamada gusuku ruins: https://goo.gl/maps/pubANL3zBmS2
---
Japanese brochure for path (I think you can pick one of these up inside the Onna Museum): http://www.onna-culture.jp/common/download/kaido-brochure.pdf