One of the things I miss quite a bit about Hawai'i is the abundance of Thai restaurants. Here in Okinawa, there are a few places to get decent Thai food (and several not so great places…). So admittedly, I am a bit biased towards whether these places also have vegetarian (or at least meat-free) options. This is not a comprehensive list, but most of the more "popular" options for Thai food in Okinawa.
South:
Siam シャム: This place is great, though vegetarian options are not a default. If you ask nicely, though, they will serve Pad Thai without meat. Last time I checked this was 1 of the only 3 Thai restaurants with a Thai owner. https://goo.gl/maps/c2mDiwuAx9T2
Cafe Curucuma (a.k.a. "Thai in the Sky") カフェくるくま: Not recommended. While the views are nice, the food was terrible the one and only time I went (but with large portions). Also the wait… this place is popular for reasons I do not understand, and you will likely wait a long time for a table. Some people like it, but I was less than impressed. I also do not recall any vegetarian options. https://goo.gl/maps/eDcAuoYd6y62
Prik Thai プリックタイ: Nothing here was vegetarian, but I was able to order "without meat" (though success was questionable). It was okay at best.  https://goo.gl/maps/wWybuhQxpRr
Spice Herb Holiday スパイスハーブホリデー: I have yet to come here, but I hear it is decent. Hopefully I can make it down here sometime soon.  https://goo.gl/maps/gsYphV92Umr
---
Central:
Aridoi アリドイ: Very good place, probably the best on island (one of the 3 with actual Thai owners). I don't think the vegetarian options are by default, but you can ask to have them made vegetarian.  https://goo.gl/maps/JGZbC8aY5fD2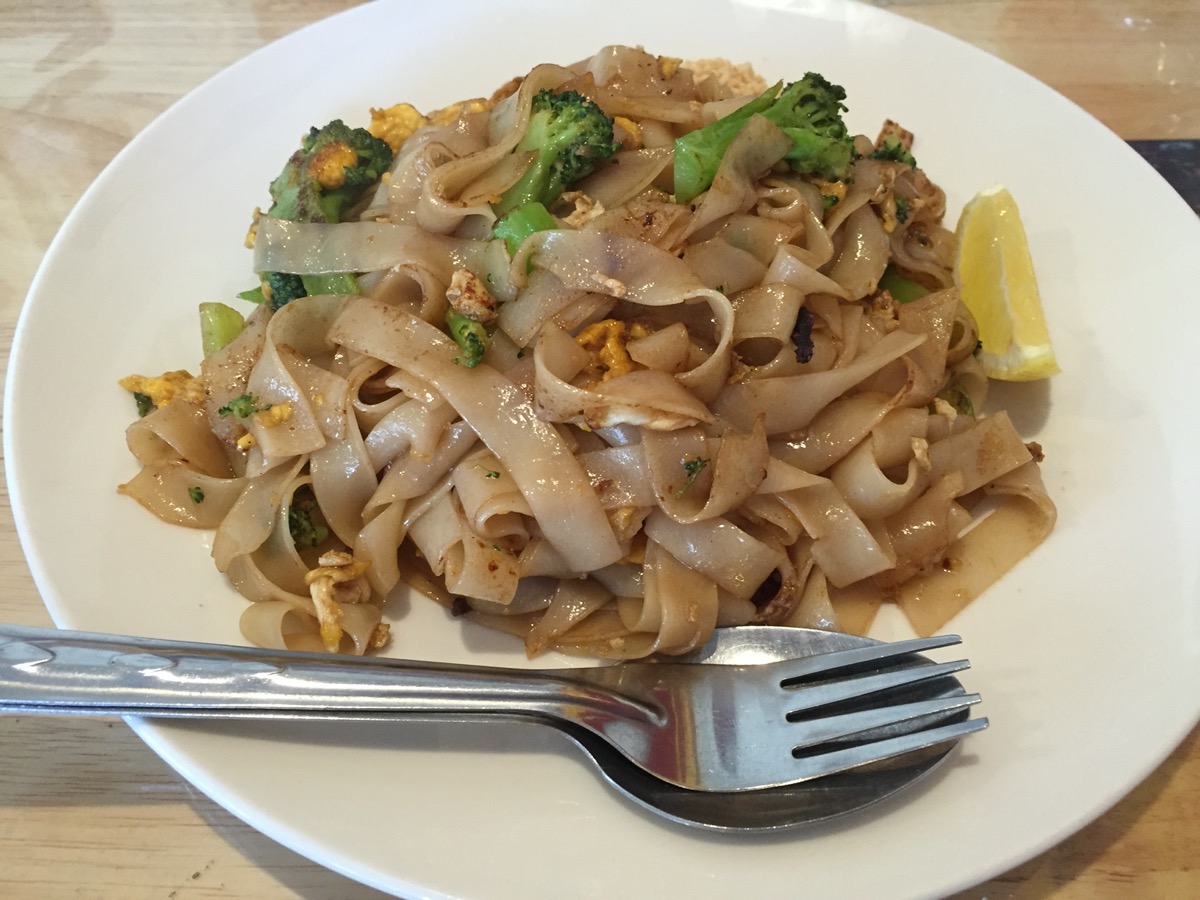 Jai Thai ジャイタイ: Located in American Village, I went here once… and it was way overpriced and pretty much awful. Touted as having a lot of vegan and vegetarian options I was excited to try it, but very, very disappointed. As such, I never returned.  https://goo.gl/maps/MuLoRkpbdpR2
Thaicoon タイクーン: Relatively new place in American Village. They have a cheap lunch buffet, but since it is not veg-friendly I have yet to try this place (I think dinner is regular menu). It doesn't really look very authentic, but it gets mixed reviews, so may be worth a shot sometime.  https://goo.gl/maps/rR5M3qca7cR2
Aroyna Tabeta あろいなたべた: Also located in American Village. Sadly I have yet to try it as I just don't visit American Village area very often. https://goo.gl/maps/esoVBfGt9Ly
Siam Binto シャムビントウ: New! Located outside the RyuDai East Gate. Pretty decent, and even though the menu is chicken based, you can order a vegetarian version of the pad thai, green curry, and red curry. They are run by Thai chefs and even do takeout.  https://goo.gl/maps/MVQ9VrExYKU2
---
North:
Shirokuma アジアン食堂 シロクマ: located in Yomitan, not exactly authentic, but decent nonetheless.  https://goo.gl/maps/n9Cdu57QpF22
Khrua Thai: I have not been, but according to my husband it is so-so.  https://goo.gl/maps/7HNf5U6VMox
Som Chai ソムチャイ: Another location I have not been. It is near some bases, so probably why I have not been there. The pictures look okay, but I have never been in a hurry to try them.  https://goo.gl/maps/RHC4DZYnkV32
**I will add some pictures sometime soon.