狭山丘陵 Sayama Hills
トトロの森 Totoro Woods
埼玉県 Saitama Prefecture
---
The Friday afternoon of the last weekend in October, I took a quick flight up to Tokyo… where I then took a train from the airport to Ikebukuro Station 池袋駅, and then to Tokorozawa station 所沢駅. The train ride from Ikebukuro to Tokorozawa was 20 minutes by rapid, or about 40 minutes by semi-express.
Once we made it to Tokorozawa, we rented a car from nearby to the station (the car rental place was even open 24 hours). While we had intended to stay at a hotel by the station and only rent a car the next day, most of the hotels had been full so we ended up booking at a hotel a bit further out that wasn't easily accessible by the train line. By the time we had everything settled, it was already dinner time.
I was able to convince my husband into going to Komeda Coffee コメダ珈琲, a popular cafe/coffee chain, since it was on the way to the hotel. We entered the brightly lit cafe decorated sort of like a log cabin. My husband ordered the gratin and I ordered the "salad" plate and a mini shiro-noir.
The shiro-noir シロノワール is the dessert this coffee chain is known for: a warm, crunchy-on-the-outside, soft-on-the-inside danish topped with a cold soft-serve ice cream and syrup. It was soooooooo good. Yum. I know… it is just a chain coffee resto and not like a real hidden gem or anything, but it is so worth a try if you are near one. My husband rolled his eyes a bit at my "I am having dessert for dinner," but I have been wanting to try it for awhile now.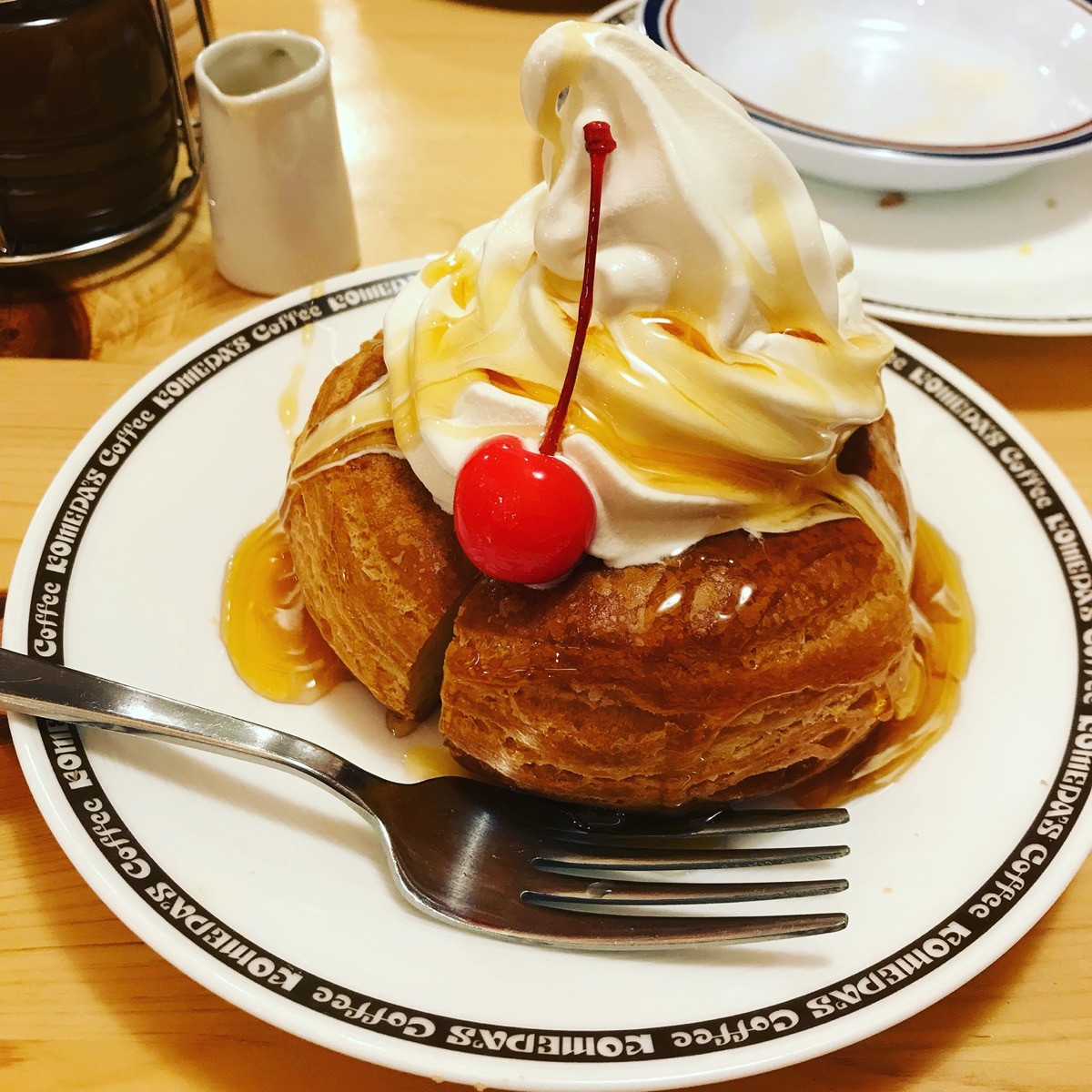 After dinner, we arrived at the hotel, which was actually a "love hotel," but it was cheap, (mostly) clean, and spacious.
The next day, we headed out early to Sayama Hills area… for the Totoro woods! As a Ghibli-lover, this has been on my list of places to visit for awhile. There are several sections of totoro woods… so you need to plan your route depending on what you wish to see. I will give a guidance for my basic route here, but it was disturbed by some rain on my trip, so my original course plan changed a bit.
To start our Japanese "forest-bathing" 森林浴 adventure, we parked at the paid parking lot near to the Kurosuke house クロスケ家. From here, we followed the Japanese map printed off from the Totoro fund website and headed on the path towards the Totoro Woods #1 & #3 (*note: you can also donate some hundred yen and pick up color printed maps at the Kurosuke house if they are open).
I will post an album of pictures and a Google Map route soon. It was a nice short hike there and back to the house. We started early(ish), about 8am or so. We took several stops including a conbini for breakfast and coffee, so it actually took us 2 hours round trip. We were in no rush, after all, and the whole point of the journey was to be inspired by the Ghibli-like nature and scenery surrounding us. We passed tea fields, acorn trails, chestnut trees, quaint houses, idyllic woods, shrines, and small farms.
We arrived back at the Kurosuke house now that it was open. Of course, we took several photos and bought some souvenirs. It was a very cute place to visit.
At this point there was some light on and off rain, so we decided to forgo the original plan of walking from the Kurosuke house to the Saitama Midori-no-mori museum and park. Instead we drove over the museum and parked the rental car (free). We walked the path according to the printed out maps, towards Kinsenji (temple) and Waseda University (Tokorozawa Campus), and then looped back. Overall, we were able to see and enjoy nearly everything I had hoped for despite the light rain interfering with plans a bit. There are so many sections of woods and countryside to choose from, it would be impossible to visit it all in one trip.
After we finished our "walk," we were hungry for lunch and stopped at a soba restaurant, Waka Juuwari Soba 和花十割そば. I had the dattan soba ダッタン蕎麦, which is made from Tartary buckwheat; it is a little more "bitter" than typical buckwheat soba, but I found it delicious. My husband got hot curry soba. My husband and I also split a vegetable tempura plate– heaven. To be honest, Okinawa simply does not have tempura like the mainland (Okinawa tempura is good… but it is not the same as the mainland somehow).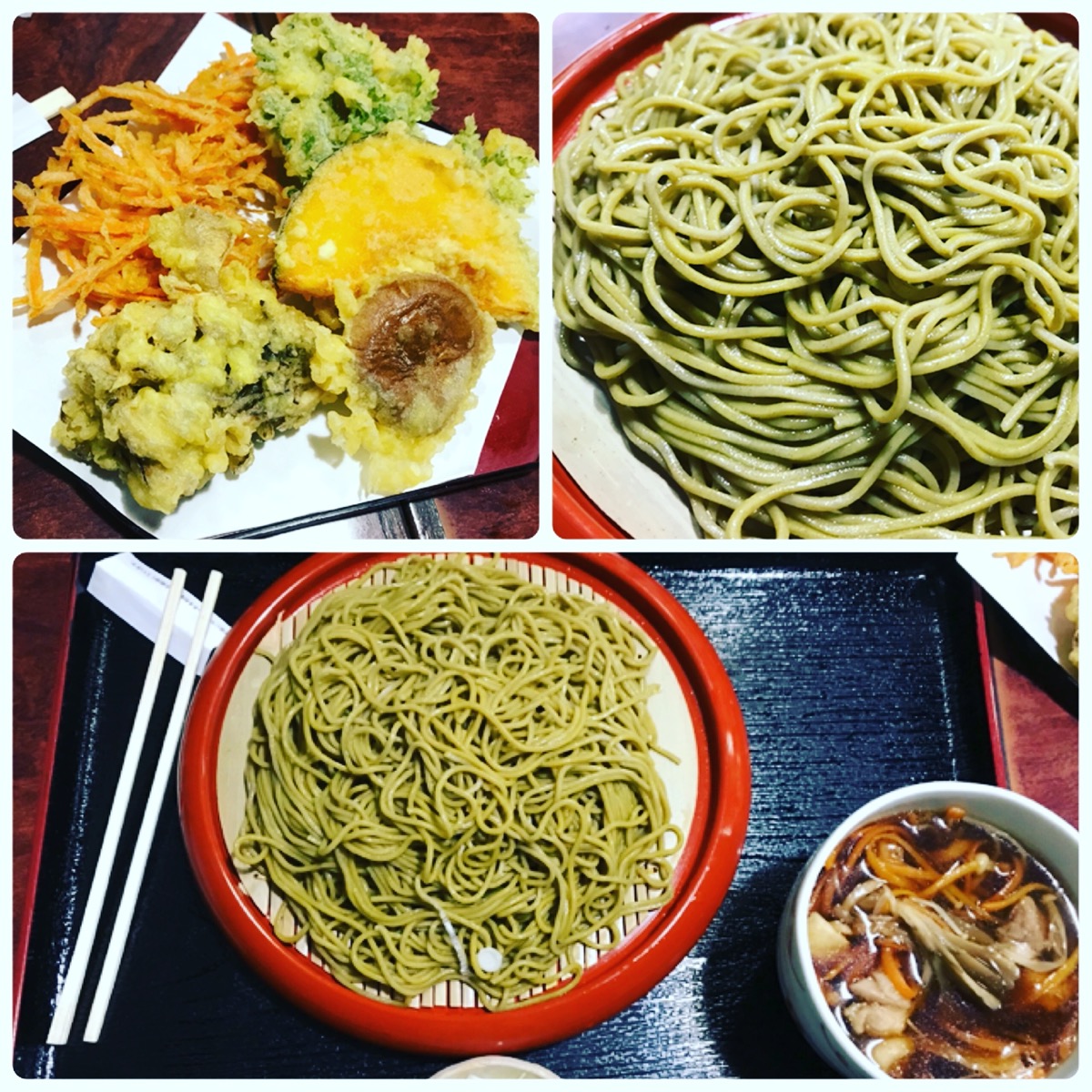 ---
In the afternoon, we went to Tove Jansson Akebono Children's Forest Park (Moomin Valley Park). Part 2 coming soon.
imgur album for Totoro woods and Kurosuke House:
https://imgur.com/a/uAHkN