Bukubuku cha ぶくぶく茶 is a type of tea in Okinawa that is frothed. You use a bamboo whisk and froth the tea, creating foamy bubbles.
At this particular location, for the tea, I chose the traditional sanpin-cha さんぴん茶 (Jasmine tea) as the base, but there are several other flavors you can try at Kariisanfan in Shuri (I have tried ucchin/turmeric and hibiscus flavors previously as well). The tea for foaming is typically jasmine tea roasted with rice, making it a type of genmai-cha 玄米茶, one of the secrets to its foamy-ness. In addition, the minerals in the hard water found in the southern part of Okinawa help make it foam.
The set came with various little snacks, some traditional Ryukyu sweets (such as kunpen and chinsuko), some just general Japanese sweets. It is sort of the Okinawan equivalent to mainland Japan tea ceremony, as it was used during the Ryukyu era to entertain accredited Chinese envoys when they visited. This set also came with brown sugar and crushed island peanuts to sprinkle on top.
There are a few locations to experience a nice tea set, which usually comes with some traditional cookies as well. Some places you whisk/froth your own and others it is brought out to you all ready to go. There is even one place where they will dress you in kimono/yukata and have a small tea ceremony (again, another place located in Shuri area); I have not tried this place yet though it looks like a really nice experience.
The culture center on Kokusai-dori also offers it at certain times, so stop by there and check their schedule.
You can even buy a little (but expensive… 400yen for just 1 serving!) package at some omiyage shops on Kokusai-dori. It works! You need to make sure to use "hard water" such as mineral water. Read about how to make bukubuku-cha at home here; there is a "recipe" attached so you can skip buying the package and just collect the materials yourself, or if you purchase the package but do not read Japanese, you can follow my translated instructions. For a tea-lover, this is a must!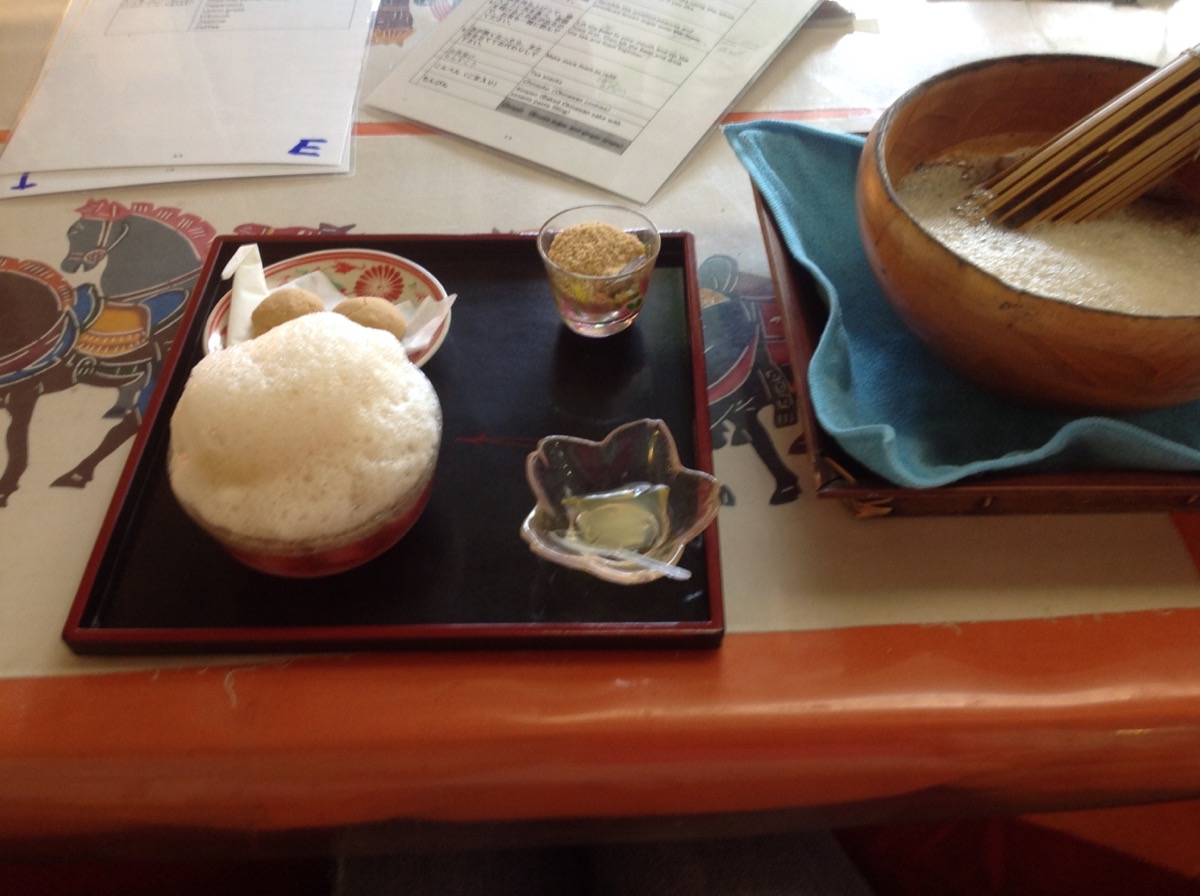 Some other places offer it on the menu, but not very many come with  nice set like this. Some will even make it with a coffee base.
Uchinaa chaya Bukubukuうちなー茶屋ぶくぶく: Tsuboya yachimun (pottery) street, they make it for you.
〒902-0065沖縄県那覇市壺屋1丁目28-3
https://goo.gl/maps/pmdmvBXE4qt
Kariisanfan 嘉例山房: near Shuri-jo, you whisk it yourself for the full experience.
〒903-0824沖縄県那覇市首里池端町9
https://goo.gl/maps/zaYukFAuUWP2
Cafe Okinawa Shiki カフェ沖縄式: near Naminoue Shrine, serves bukubuku coffee.
沖縄県那覇市久米2-31-11
https://goo.gl/maps/fkvEi1AAqPS2
Nuchigafu 琉球料理ぬちがふう(命果報): Along Tsuboya district's Yachimun Street.
https://goo.gl/maps/V6M63qWvVXw
During the Nanmin festival at Naminoue Shrine in May, you can try FREE bukubuku-cha made by some expert ladies!