Today I went to Arakaki Chinsukou Honpo 新垣ちんすこう本舗, an omiyage sweets shop in Shuri which has been in business since 1908. There are also 2 locations in Naha, near Kokusai-dori. An interesting note, there are also 2 more shops called Arakaki Honke 新垣本家 and Arakaki Kami 新垣カミ which are from the same ancestors that make chinsukou and other traditional sweets. Obviously, they are most famous for their chinsukou, however today I went for something a little different; some lesser-known traditional Ryukyu sweets:
千寿こう(せんじゅこう) senjukou (also romanized as senjuko): peanut butter, sesame seeds, and kippan (citrus peels that are boiled with sugar), then wrapped in lard-based pie dough with rainbow colors. Its shape is similar to the image of a lotus flower. It was re-introduced after a long time after being featured in a popular period drama called "Tempest." This is the only shop in Okinawa which sells senjukou, and quantities are limited every day since it is made by hand.
闘鶏餃(たうちいちゃう)tauchiichau: traditional treat fried in lard, a sesame bean paste wrapped in a stiff pie crust with red and green dots added. It is named as such since it resembles a cockscomb (rooster comb).
花ぼうる hanabouru: ryukyu cookie with a hard texture and intricate decoration that is carefully shaped like a wisteria flower.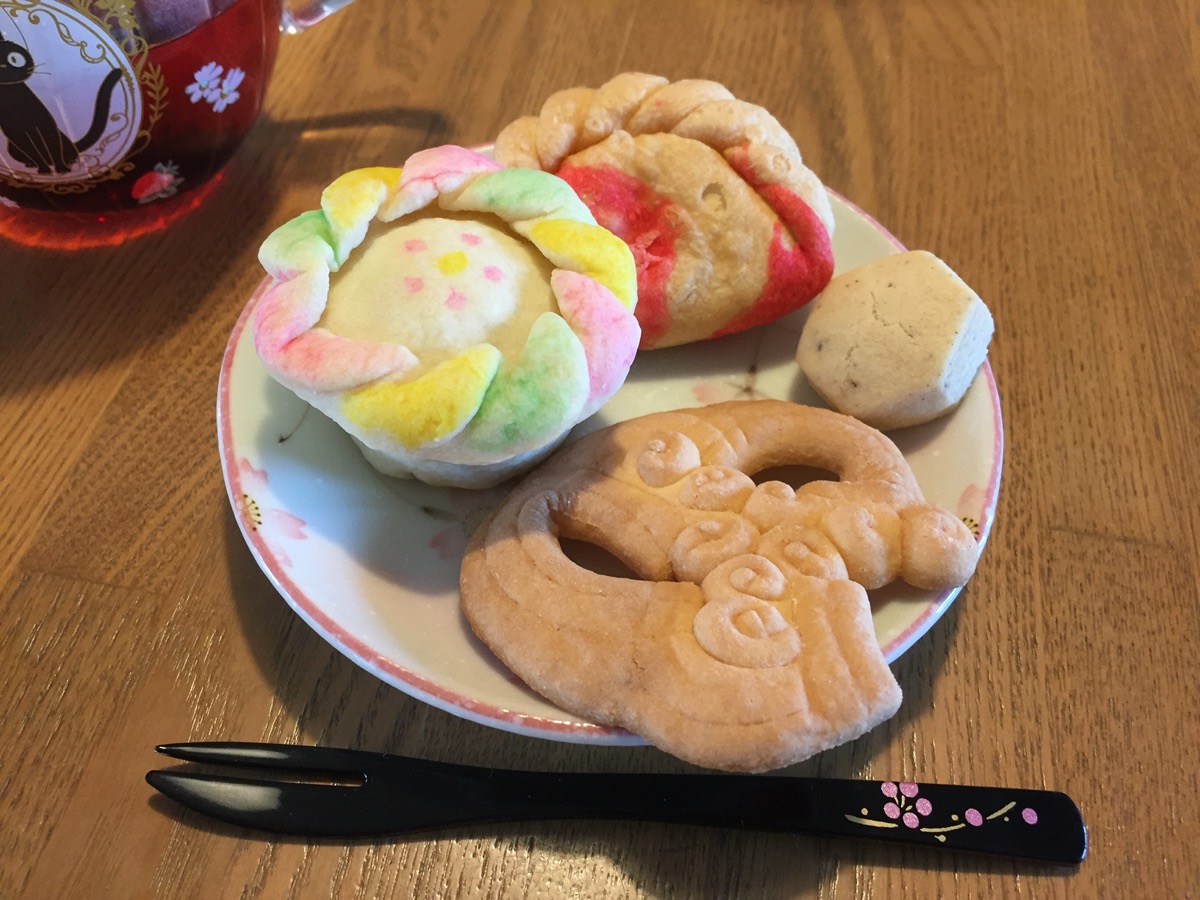 These sweets are perfect for tea-time, especially if you choose sanpin-cha (jasmine tea). Or if you want to be fancy, try recreating bukubuku-cha. Today though I decided on hibiscus tea.
At this shop, you can also find many varieties of chinsukou, as well as a few other traditional sweets only found in Okinawa. The staff was very friendly and had some samples out. If you make a purchase, they will give you a free chinsukou cookie to take with you. My husband liked the chinsukou best of the four items, but for me I think it was definitely the senjukou with its nutty taste with a hint of citrus (plus it is so cute looking!). The hanabouru would have actually gone better with coffee in our (westernized) opinion. As a reminder, these are not for strict vegetarians or others who don't eat pork since all of these contain pork lard.
I am quite fascinated by all the various traditional Ryukyuan sweets and their differences from traditional Japanese wagashi; they developed independently, with influence from both China and Japan. The names of more than 200 sweets are found in literature, but almost all of the recipes were lost with the overthrow of the dynasty and then the mass destruction during World War II.
address for Shuri location; free parking (3 spaces) next door:  https://goo.gl/maps/kcFvzXA6BvQ2