ヒジガービラまーい (ヒジ川ビラ) Hijigaabira maai: this comes from the name of the spring water well on the west side of the cobblestone road; it looks like a beard 髭 (hige in Japanese, hiji ヒジ in Okinawa language). A "gaa" is a river 川 (gaa ガー in Okinawan, kawa in Japanese). "Hira" (turns to a "b" sound, bira, when combined) means slope, and maai is meaning a loop road.
金城町石畳道 Kinjo-cho ishidatami michi: Kinjo-cho is the name of the town; "ishi" means rock in Japanese, the path is cobbled so it somewhat resembles Japanese tatami. "Michi" means road in Japanese. This path is quite famous, and survived the Battle of Okinawa quite intact.
Today's walking adventure consisted of walking 2 famous Ryukyuan era stone paths in the Shuri area, which are also part of the Madama-michi 真珠道 (Ryukyuan era military route).
We parked at Shikinaen (gardens) 識名園, in the large public parking lot in the area where these routes begin. From the park, there were several signs pointing the way. You do pass through a large graveyard, but not to worry, this is an actual road. There is also an awesome bakery Imai Pain いまいパン along the road; it has many delicious goodies (yes, they spell it pain, as in the French word for bread, instead of "pan" like in romaji).
The lesser known historical stone path, Hijigaa bira maai, has several points of interest with plaque markers, some of them with a bit of English. It is steep in portions, and since there are some sections stone path it is best to wear shoes with a decent grip. Pictured below is a "map" of the route on one of the stone plaques.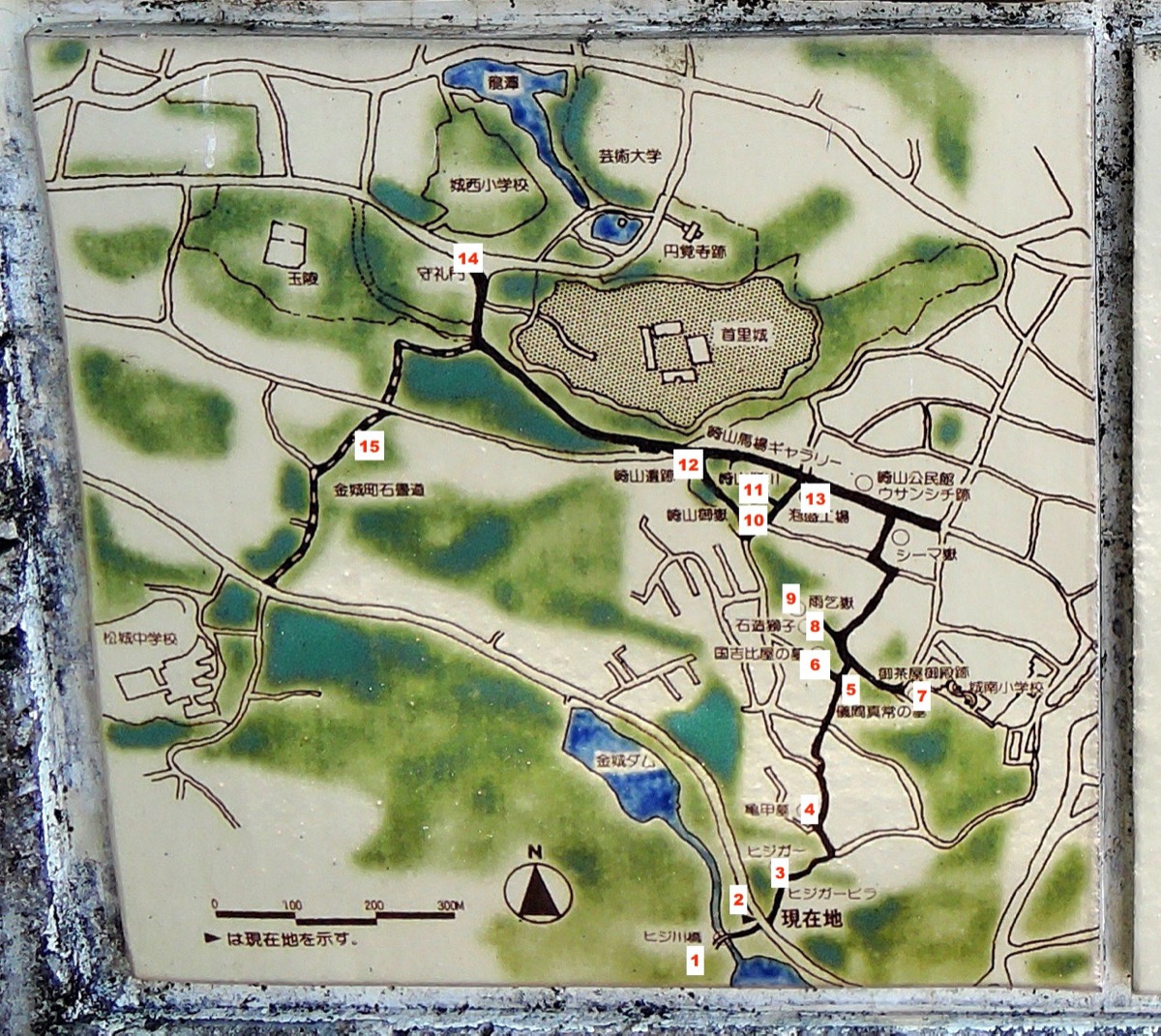 The actual path starts at the Hijigaa (1) bridge adjacent to Kinjo dam. The bridge itself does not seem so interesting as a whole, but a good amount of craftmanship went into constructing this type of bridge.
From here, we crossed the street to the entrance of the Hijigaa stone slope (2); down the street before entering the stone path, there is yet another nice little desserts shop Dessert Labo Chocolat in case you need some extra energy before starting.
The stones making up the path are preserved history, of a long ago Ryukyu kingdom. Along here you can find the Hijigaa (3), though it is fairly covered with overgrowth. Continuing along, the original stone pavement itself will end, however you will continue to see signs for the path as well as stone tiles set into the regular road making it quite easy to follow. There are some turtleback tombs 亀甲墓 kamekoubaka (4), and then a large tomb area for Gima Shinjo (5), a guy who helped spread sweet potatoes in Okinawa as well as some other contributions.
There are 2 more grave sites for Tasato Chochoku and Kuniyoshi no Hiya (6), off a small pathway. Tasato helped to develop Kumiodori during the 18th century. Kuniyoshi no Hiya was a lord who lived in the 15th Century, and appears in one of Tasato's plays.
Next will be the ruins site of the Uchaya-udun (7), a Ryukyu tea house where royalty entertained Chinese envoys; not much to see here as it was destroyed in the Battle of Okinawa, and right now it is located within the premises of the Shuri Catholic Church. Continuing back to the path leads to a small park starting with the Uchaya-udun stone lion (shisa) 御茶屋御殿石獅子 (8). It was also destroyed in the Battle of Okinawa, but has been restored.
Next you come to 雨乞御嶽 Amagoi utaki (9): place of worship for rain. Around here you will notice spectacular views; there is an observation deck area and on a clear day (like today) you can see the Keramas. Now you have made it to the Sakiyama Park (10, 11, 12); there is another hijagaa and a few more utaki (places of worship). Today we were fortunate to see the first blooms of sakura in the park. From here it ends at a marked entrance spot near the Awamori distillery Zuisen 瑞泉 (13), the same street where the sagaribana bloom in summer. A short while later you come upon Shureimon守礼門 (14) located at Shuri-jo 首里城.
The second part of our walk was through Shuri-jo and then back down towards Shikinaen via Kinjo-cho ishidatami michi (15); continued here in Part 2.
For some pictures along the route, check out the imgur album; although I didn't think to get pictures of every stop on the way, I think I got most of them.
Some addresses to help with mapping:
Shikinaen 識名園: 〒902-0072沖縄県那覇市字真地421-7  https://goo.gl/maps/VmKM69jNEis
Imai Pain いまいパン: 902-0072 沖縄県那覇市真地12-4 https://goo.gl/maps/tFY22zv4Vqn
Google map coordinates for the Hijigaa bridge: https://goo.gl/maps/CyiK2VDVfC92
Stone shisa by Sakiyama park: https://goo.gl/maps/nFGstTs29BC2
Sakiyama Park 崎山公園: 沖縄県那覇市首里崎山町1丁目  https://goo.gl/maps/FX2g7u9kKc32
Zuisen Awamori distillery 瑞泉酒造: 〒903-0814 沖縄県那覇市首里崎山町1-35  https://goo.gl/maps/1SJ3Mj5T2Bx
Entrance (on Shuri-jo side) of Kinjo-cho stone pavement, next to a paid parking lot:  https://goo.gl/maps/CkK3oS4DfwJ2
Entrance (bottom of slope) of Kinjo-cho stone pavement, next to some restaurants:首里金城町2丁目84−3 https://goo.gl/maps/yMh9fvmw5742
Preview of route: 
map route in Google maps: https://goo.gl/maps/RcM2AtCDu3k