Located in the middle of Naha, at the Naha Central Hotel, is a charming sento ("onsen") called "Rikka Rikka Yu" りっかりっか湯. It does not have quite the same atmosphere as a natural outdoor Japanese onsen, but it does have a quaint feel of a community bathhouse. It is not quite as "retro" as some of the public bathhouses I have seen on the mainland, and some people may think the features are a bit out-dated (or perhaps some people may think slightly run-down), but I didn't mind it.
The full name of this place is "Yuntaku ashibi onsen Rikka Rikka Yu" ゆんたくあしび温泉りっかりっか湯; "yuntaku ashibi" means "fun while talking" and "rikka-rikka" means "let's go together" (these come from Okinawan language).
*Signs indicate very clearly no tattoo of any kind are allowed– they are plastered all over, with English, so there is no misunderstandings.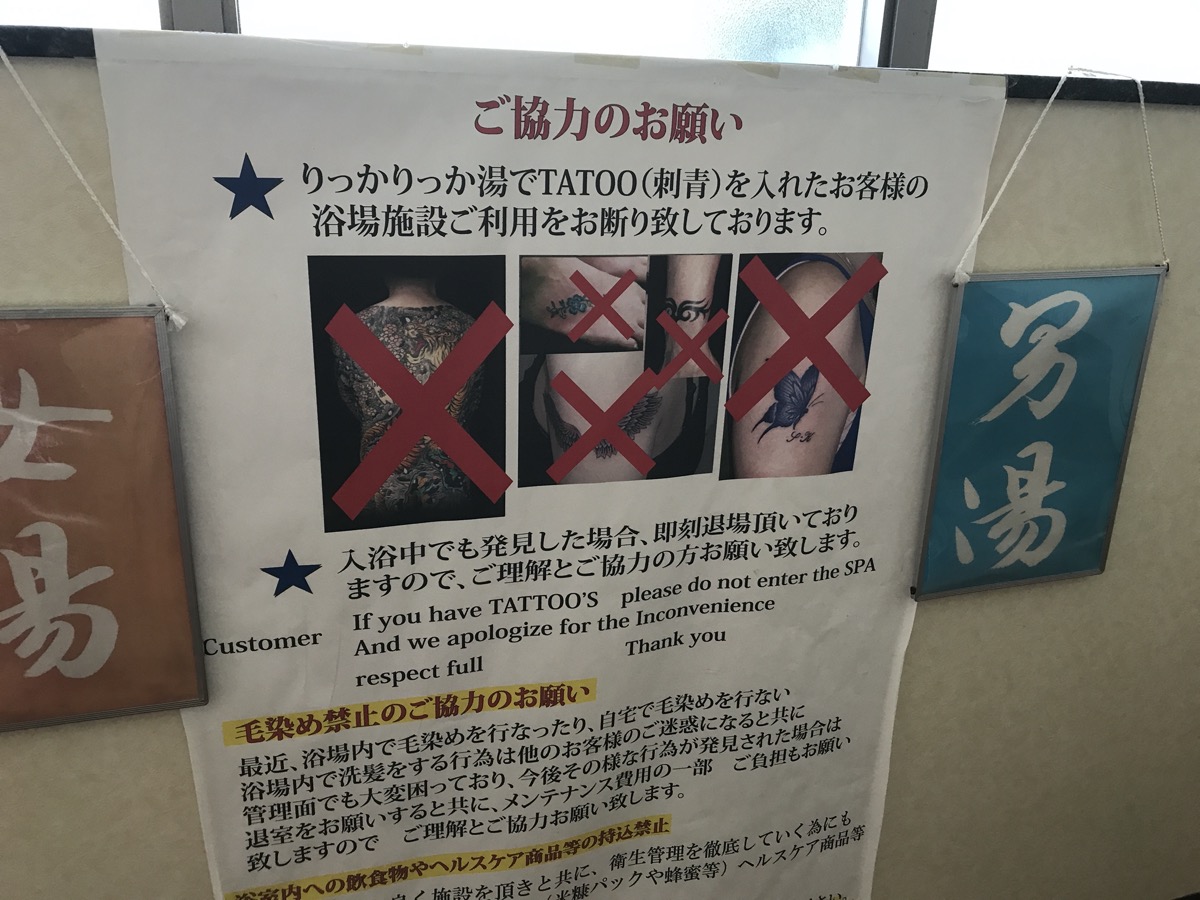 Anyway, first things first: the parking… well, it is in the middle of Naha, but there are several pay parking lots right next to the building. It is also nearby to a monorail stop (Miebashi station).
Approaching the building, it has a cute little whale graphic on the wall. At the entrance are shoe lockers, so go ahead and stow your shoes (by the way, the desk attendant will not take your shoe locker key, so just hold on to it). Through the next door, there is a cafeteria, a vending machine, and the front desk. Go to the vending machine and purchase your ticket; it is all in Japanese so be prepared in advance. For the type of facility, perhaps the fees seemed a bit high (at least compared to the mainland), but as Okinawa does not have many of these type of sento or onsen, I was willing to give it try anyway.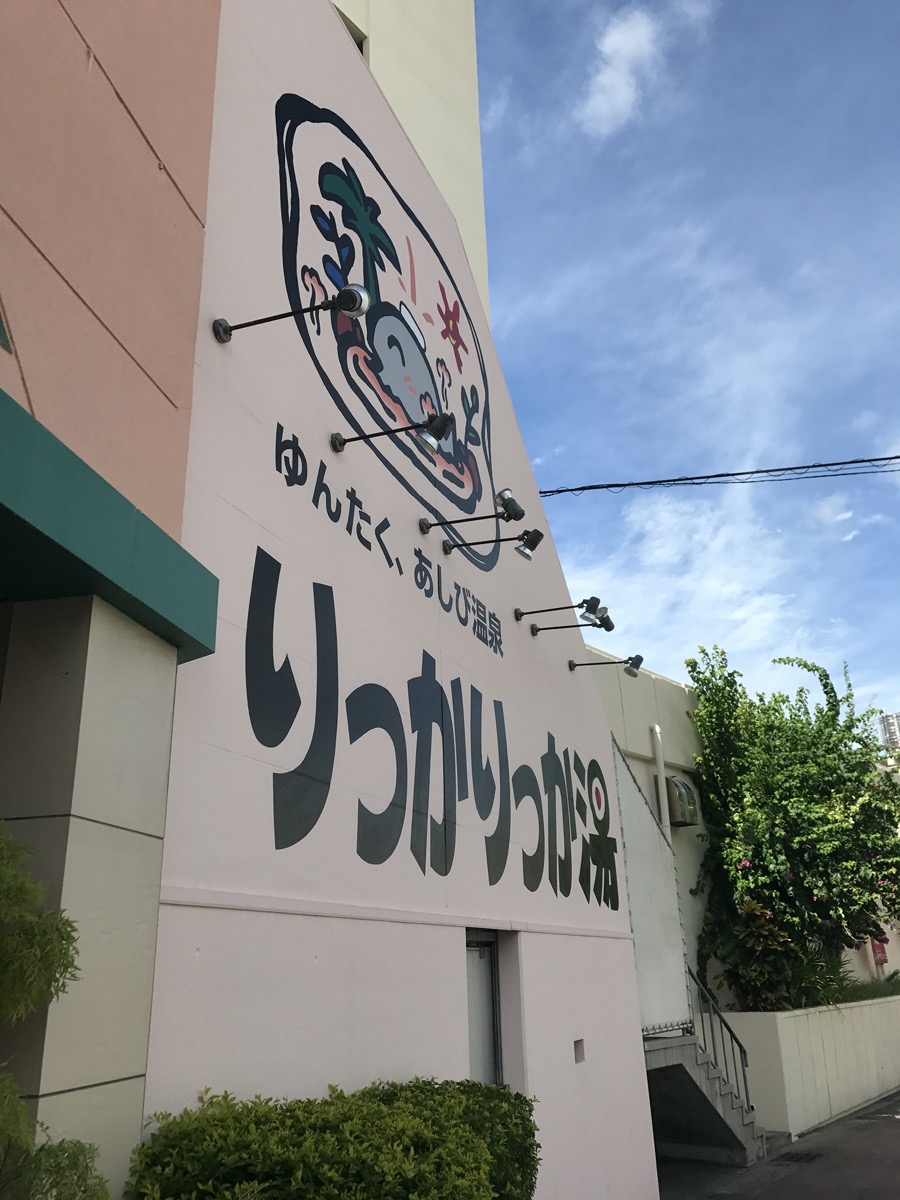 ---
Price list:
Just entrance fee to bath and sauna, no towels (adults/elementary/ages 3-6)
weekdays: ¥1,000 /¥500 /¥300
weekends and holidays: ¥1,250 /¥650 /¥400
Entrance fee to bath and sauna + 1 small towel, 1 large towel
weekdays: ¥1,400 /¥800 /¥600
weekends and holidays: ¥1,550 /¥950 /¥700
"relax wear" (samue 作務衣):¥500
Bedrock bath (ganbanyoku 岩盤浴) + baths and sauna + towels + relax wear course (adults only)
weekdays: ¥2,100
weekends and holidays: ¥2,250
---
Once you purchase your ticket from the vending machine, hand it to the attendant at the desk. If you chose to borrow towels, they will hand them to you, otherwise they will just point you up the stairs to the bathes. I chose just the bath and sauna entrance, no bedrock bath but maybe I will try it next time. You could also purchase other small bath amenities at the front desk as needed.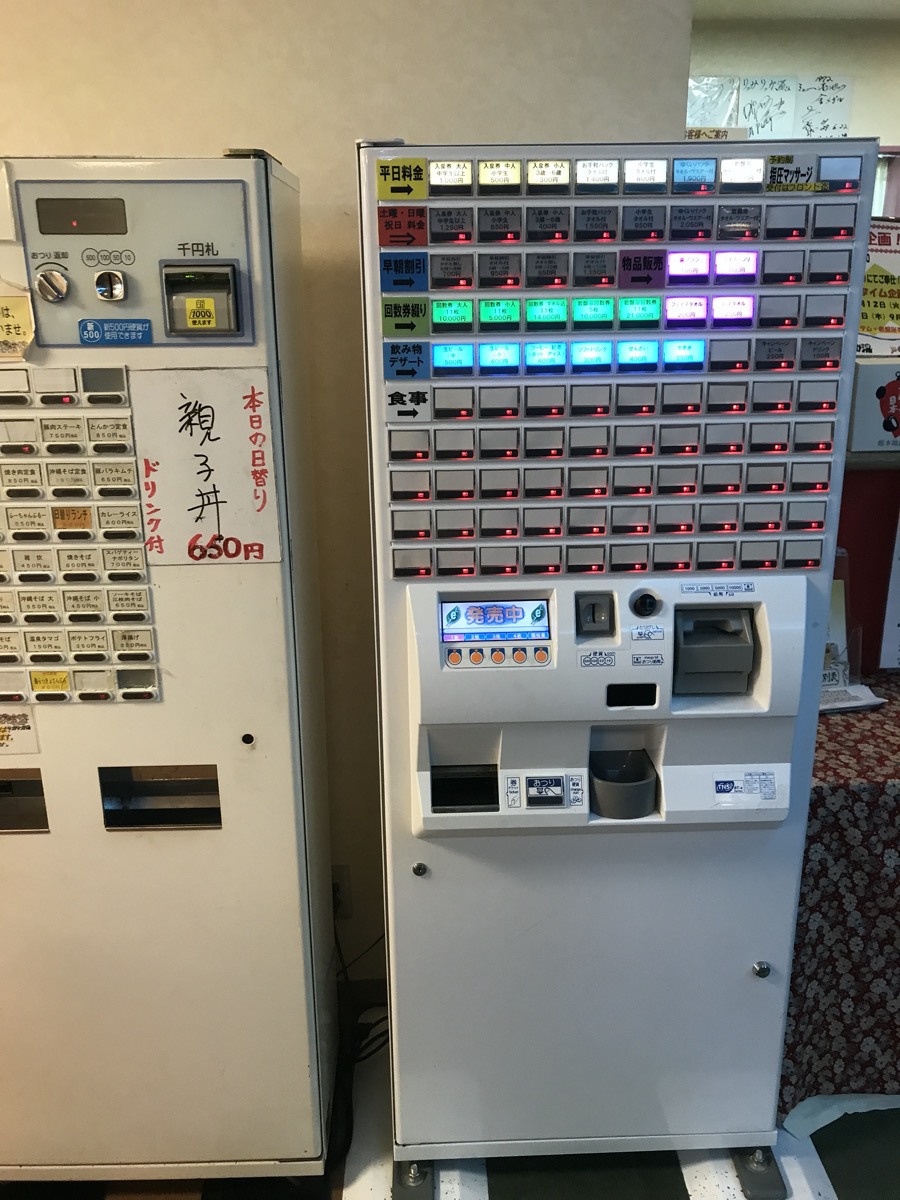 There are 2 baths, one side for women and one side for men; they rotate on a daily basis so you may have the opportunity to try both at some point. Today the men's side was "shiunsen" 紫雲泉 and the women's side was "tougensen" 桃源泉. I think for the most part they are fairly similar, with various jetted baths, an onsen-like bath, and 3 types of saunas (dry, salt, and steam).
Inside, there was a small vanity area with mirrors, hairdryers, and hairbrushes (UV box), but no amenities. Next were rows of lockers; these require a 100yen coin in the slot to release the key, but it is refunded in full when you put the key in and unlock it, so it doesn't actually cost anything. I changed out of my clothes, and headed to the baths. All over they had these types of signs showing "proper bath use," I suppose to assist foreigners…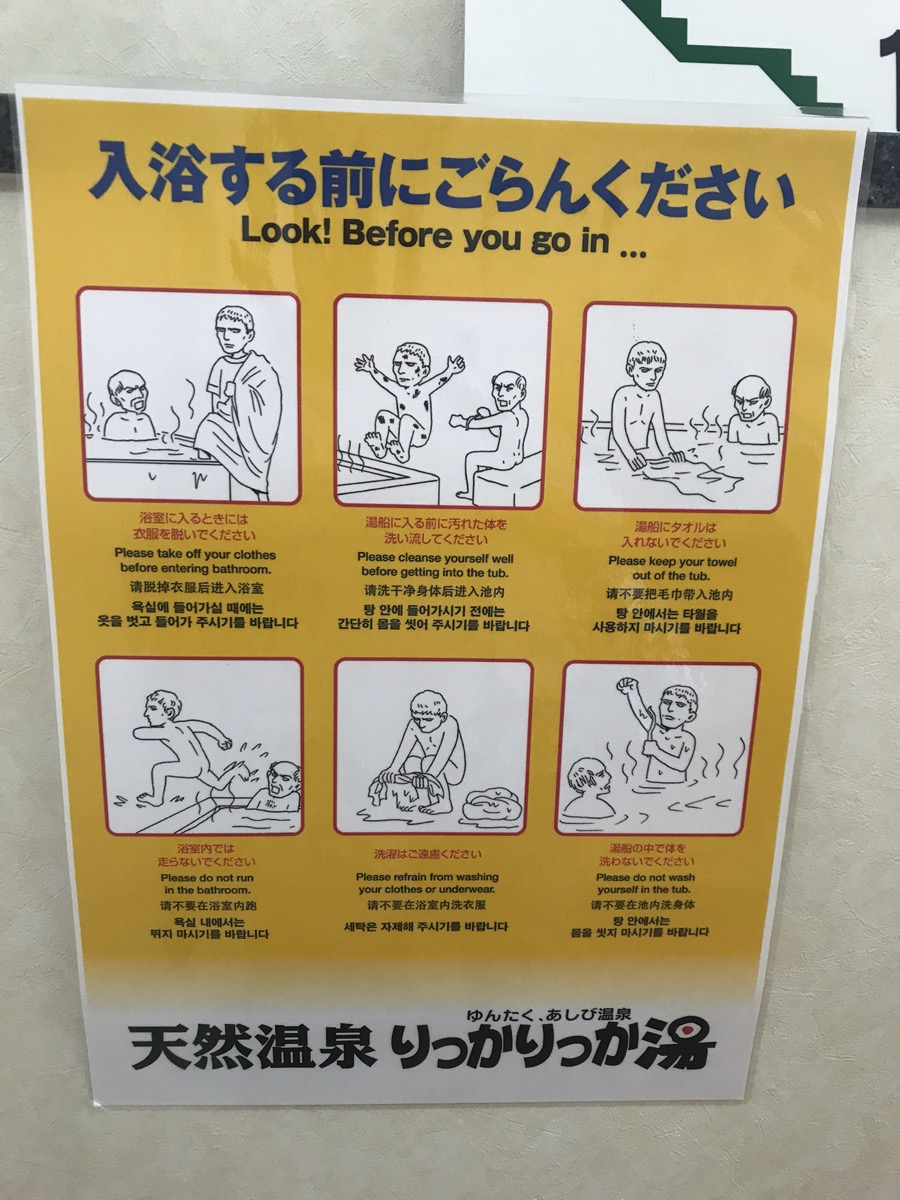 The cleaning stations were abundant, so there was no waiting around to find a free station. There was only shampoo and body wash, so if you have long hair like me, be sure to bring conditioner or treatment. As promised, there were many different types of baths to dip into, and the 3 different saunas to sweat in. I rotated through until I felt thoroughly cleansed, massaged, sweated, etc. Overall the cleanliness was okay, though as I mentioned, maybe a tad out-dated. It was clearly a popular place despite this, with many locals and even a few tourists.
Once I finished up and changed back into my clothes, I went back down the stairs and purchased a cold milk from the vending machine to refresh myself (when you finish the bottle, be sure to open the drawer at the bottom of the machine and deposit the bottle inside). I settled into one of the massage chairs, 10 minutes for only 100yen. After this I was finally ready to call it a day and head home.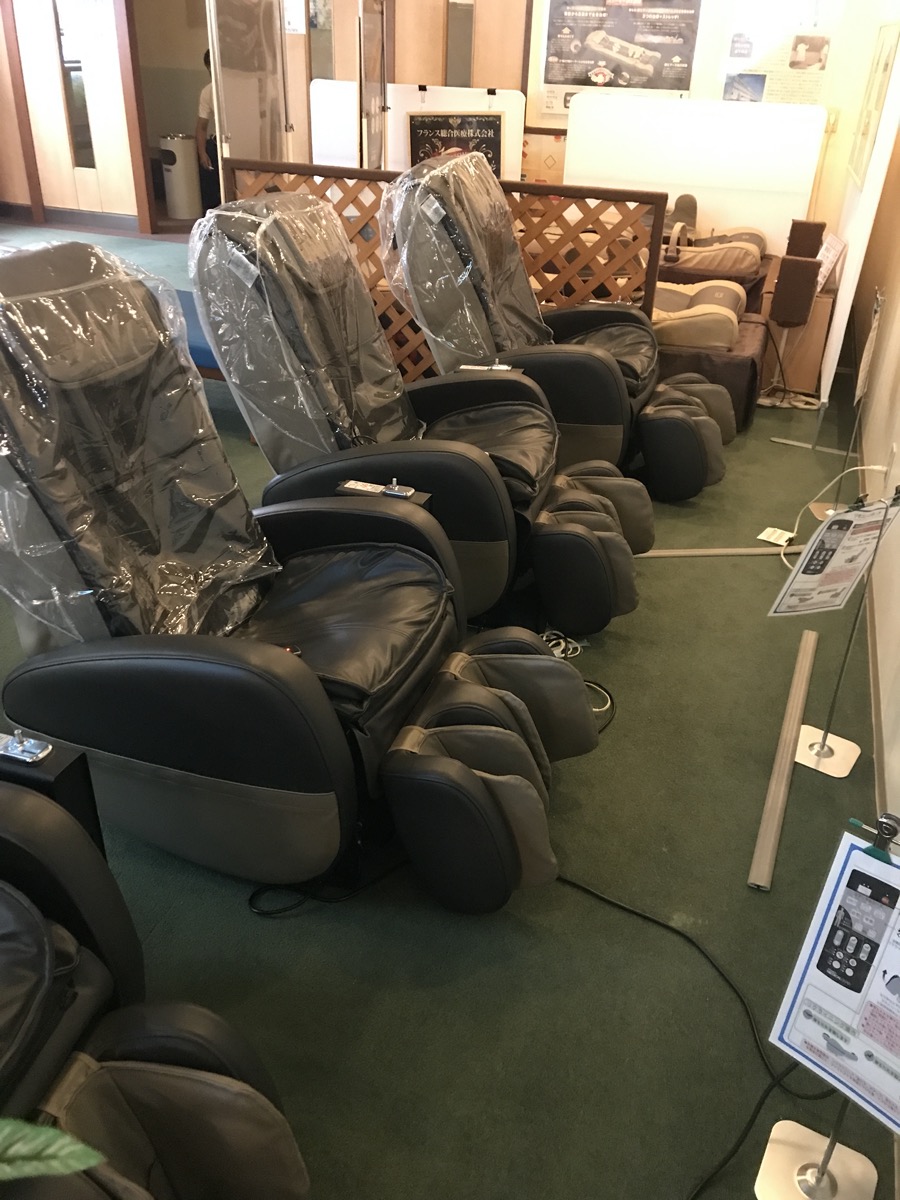 Overall? My impression was decent: though the facilities were a bit old and there was not much in the way of amenities, there was a decent selection of baths and saunas, with lots of room for many people. The price tag seemed a bit high considering I think the Aroma onsen in Ginowan is much nicer for basically the same price (and has free parking). I probably won't be in much hurry to return, but if you happen to be staying in Naha, it might be a nice diversion to check out after a long day touristing.
---
address: https://goo.gl/maps/e9xcJVMWMq92